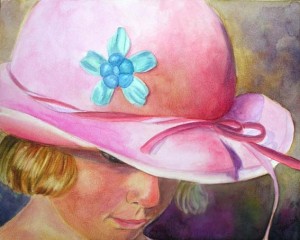 I am sorry. I wanted to show some photos about my newest oil painting, but unfortunately it didn't work. I had to paint all over, I was not really happy with the composition and so I have to start fresh again.
In the meantime I have just painted a small watercolor, again on Aquabord (Textured Claybord) from Ampersand.
If you have not paint on Aquabord yet, you simply should give it a try. It would be interesting to hear how you like it. It is so easy to remove paint and to get highlights back when neccessary. It is always good when we have not to worry about such things while painting and to know how we can easily fix areas.
This small painting is titled "The Pink Hat". I think it is clear why. LOL
Size is 8″x10″.
For the skin tones I have used Raw Sienna, Scarlet Lake, Phthalo Blue, a bit of the hat-colour (like Alizarin Crimson, Purple Magenta).