HELLO! Nice to see you here. I hope you all are doing well. I have finished two new flower paintings. One is a large rose painting – a bouquet of roses on a wood table and the other one is a colourful parrot tulip. I hope you enjoy this paintings.
Bouquet of roses on a wood table
This is a big painting, it measures 20″ x 40″ (50 cm x 100 cm). Please note that the colours may be different on your screen but I can promise that the painting looks stunning in real life.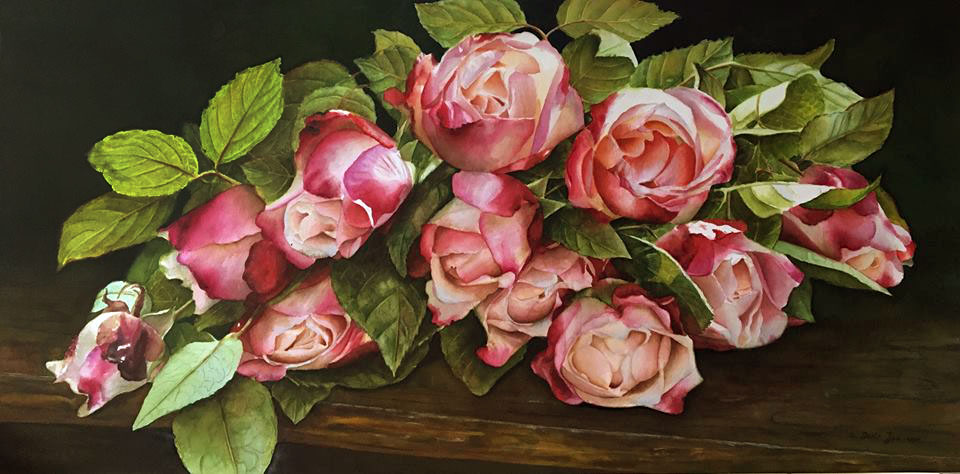 Bouquet of roses on wood table
medium: watercolor
on 140 Lb stretched watercolor paper from Arches
Size: 20″x40″ (50 cm x 100 cm)
© Doris Joa
$990.00 Buy Now
The roses are painted on stretched canvas.  The painting will be varnished to protect it. It can be framed then without class just like an oil or an acrylic painting. It also can hung on the wall without a frame – the edges are painted.
Parrot Tulip on white background
Please note here too that the colours may be different on your screen. All those who bought already paintings from me will agree that in real life they look so much better than on any screen.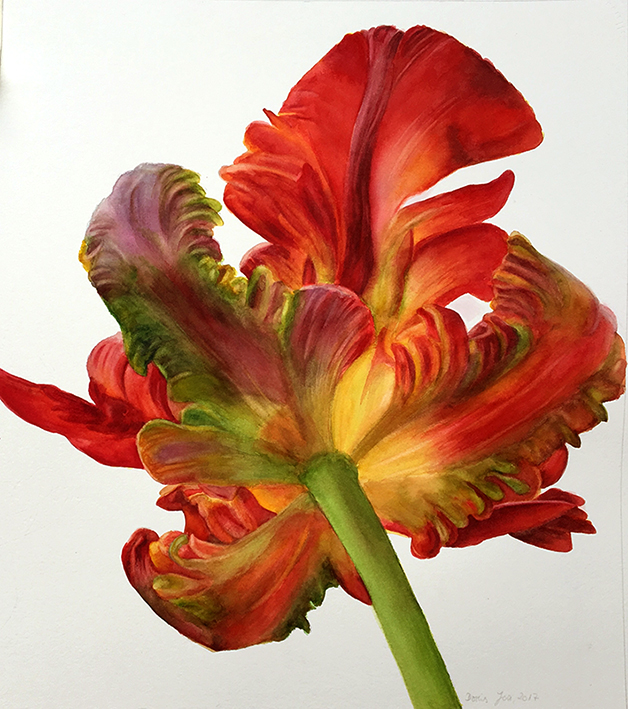 Parrot Tulip
medium: watercolor
on 300 Lb  watercolor paper
Size: 18″x21″ (48 cm x 54 cm)
© Doris Joa
10% off discount on my DVDs / Videos / E-book for you
For those who want to learn how to paint in watercolor and to decorate your walls with your own paintings:
I am offering a 10% off discount on all of my DVDs / Videos / E-book only for you because you are on my newsletter list.
Just use the coupon:
spring
Of course you also have free shipping and more discount when buying the complete DVD-Set. Please scroll down to view the available DVDs/Videos/E-book and the Complete Sets.
If you have problems using the coupon code please send an email to doris@dorisjoa.de  – I am happy to help.
More Original Rose and Flower Paintings
Please click on the images for size and more information
Rose and Flower Prints
Watercolor DVDs
Want to start with the lessons today? Get them as Watercolor Videos.

All these lessons are also available for viewing online. You can start NOW with viewing the lessons online on your tablet, computer or smartphone. You can start immediately after your purchase. Get them now:
Watercolor Videos
Watercolor E-book
Questions & Comments?
If you have any questions or comments please send a message. I am looking forward to hear from you.