Welcome to the website of german artist Doris Joa.
Doris has a big passion for nature and beauty and this can be viewed in her Watercolor Painting Gallery. She creates watercolor paintings in a realistic romantic style. Her favorite mediums are watercolor and oil.
Doris Joa lives and paints in Germany. Her original watercolor paintings of flowers, roses, horses, people (figurative), portraits and still lifes are in many international collections. Her painting style allows her to capture life in naturalistic realism. Doris's rose paintings are elegant, the flower paintings are vibrant, the cats paintings are too cute to go away and the horse paintings are colourful and painted in oil. Her figurative paintings of children and young women create a narrative that invites the viewer to become lost inside the frame. Doris hopes you find beauty and joy in her art, too. The watercolor paintings and oil paintings are created in different sizes, from small (like 2″x3″) up to large (around 40″x40″).
Watercolor Paintings – Originals and fine art prints:
Original Watercolor Paintings are for sale online. Fine art prints are also available with secure online ordering and world-wide shipping. Original Watercolor Paintings of flowers, cats and portraits/ figures are painted on high quality Watercolor Paper which is available as hot pressed or cold pressed in 140 Lb or 300 Lb. It is also possible to get Watercolor Paintings on Canvas as a special method is used to create Watercolor Canvas. This means that no glass and no frame is needed to hang this Watercolor Paintings on your wall. Oil Paintings of flowers, colourful horses and figures are painted also on canvas or board and of course don't also need a frame nor glass. Fine Art Prints for sale are available in different sizes. For more information and for purchase just visit the shop.
Commission a Watercolor Painting:
Doris takes commissions for watercolor paintings of flowers and roses in different sizes from small to large. If you want to have a portrait of your favorite rose or a special flower – no matter if it is a complete oil or watercolor painting with leaves and background or a painting in a botanical style without background – Doris is able to create a special oil or watercolor painting for you. Feel free to send an email to Doris using her contact form without any obligation. It is possible to work from your own photos as well as using Doris large library of Rose and Flower Reference Photographs. For information on how to commission an oil or watercolor painting please read more on the Commissions Page.
Watercolor DVD's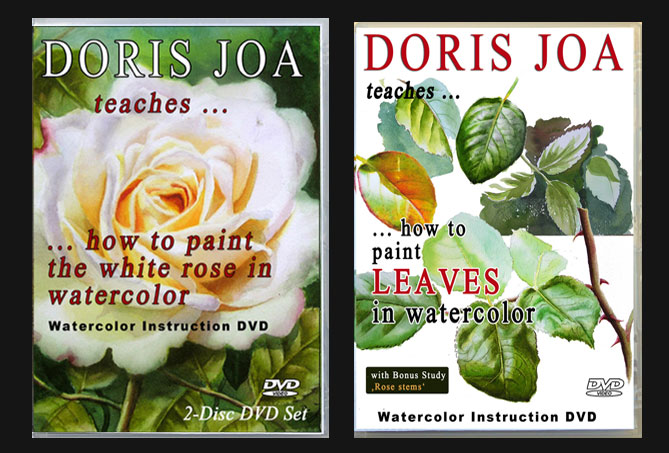 Doris has created two DVD Lessons on how to watercolor. Painting in watercolor is a wonderful journey and big passion and Doris loves to share her Watercolor Painting Technique and methods to create successful watercolor paintings. Currently she is working on the third DVD / Video Lesson on painting flowers in watercolor. In her DVD Lessons on painting flowers and leaves she teaches her Watercolor Painting Technique to create successful watercolor paintings with depth in step-by-step. This are easy to follow lessons with information about colour, colour temperature and the use of the different kinds of edges. These DVD watercolor painting lessons are for beginners and advanced watercolorists. The first Painting in the Watercolor Instruction DVD explains in 3 hours how to create a complete rose watercolor painting, starting with the drawing, the first underwashes, building glowing colours and shadow colours, painting the leaves and the all important background. Learn how to put it all together so that you too can create a successful Rose Painting. Beside all the watercolor painting instruction on the DVD you will get a useful handbook, too!
The second of her Watercolor DVDs is all about How to paint leaves. Learn to paint 5 different leaf studies, rich green leaves, realistic leaves, autumn leaves and painterly leaves. For both Watercolor Painting Instruction DVDs you will get the drawing, Reference photographs and an additional Handbook with all important tips. The third Watercolor Painting DVD Lesson is a mix of different studies, starting with a study of a blue hydrangea and a complete painting of a glowing orange rose. Another lesson of a flower will be added to this Watercolor DVD, so this DVD is full of invaluable information to create stunning flower and rose paintings. Click to learn more about the Watercolor DVDs and a preview of the new DVD.
Watercolor Online Videos
Both Watercolor DVDs mentioned above are available as Video Online Lessons. You can watch the Watercolor Online Videos immediately after your purchase. You can watch them 24 hours per day online and you get the same reference material with the handbooks. Get indepth watercolor instruction, each step is explained, learn more about colour temperature and edges. Click to learn more about the Watercolor Online Videos.
Watercolor E-book
Available is also a detailed Watercolor E-book about  "How to paint realistic flowers in watercolor". This Watercolor E-book is full with step-by-step-photos. Once again you will get the drawings & the reference photographs. This Watercolor E-book is a .pdf file and can be watched on your tablet, smartphone and your computer. Click to learn more about the Watercolor E-book.
Free Watercolor Tutorials / Free Watercolor Lessons in step-by-step-Demonstrations
Doris loves to share what she learned about painting in watercolor. She has created a few free tutorials on how to createa watercolor painting and shows many step-by-step demonstrations of paintings in watercolor of flowers and roses. Learn to paint the purple Heidi Klum Rose or a pink botanical rose study as a watercolor painting. Get the list of her art materials she is using. Learn how to paint roses in watercolor or how to paint flowers and learn more about Watercolor Techniques, colour temperature and edges. Many step-by-step-photos show you a watercolor painting from start to finish.  Click for the free Watercolor Painting Lessons to learn how to create emotions in your paintings, how to create dark backgrounds and more.
Blog
Please visit Doris's Blog for updates and News around her art.