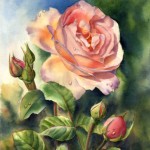 Which watercolor paper is the best? How does Aquabord works? Can I make my own Watercolor Canvas?
Watercolor Painting: Watercolor Paper, Aquaboard, watercolor canvas?
On this page are some information about the different surfaces which I use for my Watercolor Paintings.
Watercolor Paper
For my watercolor paintings I am using mainly the following watercolor paper:
140 Lb (300 g) cold pressed Arches watercolor paper
300 Lb (640 g) cold pressed Arches watercolor paper
140 Lb (300 g) hot pressed Arches watercolor paper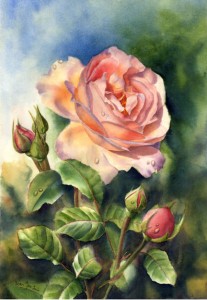 You need to stretch your watercolor paper. I am using a simple wood board, wet my paper and then I staple it. I tried several times to use Water Activated Tape and sometimes it works and often it doesn't work. To staple them is much easier and this works definetly. You still can use some Water Activated Tape to get clean edges around your painting and then staple the paper on this tape to make sure that it really works.
The Rose Painting left is painted on 140 Lb hot pressed watercolor paper from Arches.
The Watercolor Paper is available in blocks, sheets or in a big roll.
It is possible to get great details on every paper. You simply need practice because each surface is different.
Aquabord
I also use Aquabord from Ampersandart.com. Aquabord is a hardboard panel. Great is that you don't need to stretch it. The surface is very raugh and you need some practice to figure out how to paint with layers.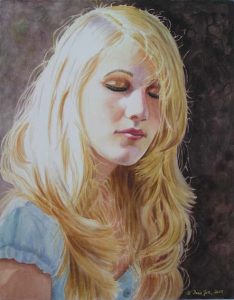 The colours are rich and the surface of the Aquabord allows you to completely lift your colours back to white. It is wonderful for getting highlights back and if you don't like your painting you simply can wash it out with a sponge and start over.
The Aquabord is available in different sizes. Unfortunately it is not available in Germany and I hope they will change this, so that oversea artists can enjoy this surface, too!
A great benefit is that you don't need to put this Aquabord behind glass. You need a fixative spray to varnish your watercolor.
The Portrait of the blonde girl above is created on Aquabord from Ampersandart.
Watercolor Canvas
I am creating my Watercolor Canvas by my own. Watercolor Canvas is also not available here in germany so I was happy to learn that I can create them by myself. I simply need some stretcher bars and put them together. Then I need my watercolor paper (the best is the 140 Lb heavy paper), wet it and stretch it over the stretcher bars and staple it on the back.

All these three Roses are painted on stretched canvas, using 140 Lb cold pressed Arches watercolor paper. The edges are painted so my collectors can enjoy hanging them without frame and without glass on their wall.
This Watercolor Canvas look the same as any stretched canvas for oil or acrylic paintings. It also can be framed like an oil painting and you don't need NO glass.
To see the painted edges on a painting please look at this Pink Rose Painting in Watercolor.
I made a short video demonstration at how I make my own watercolor canvas.
The watercolor canvas will be varnished with a special fixative spray. I am using Golden Archival Varnish. But make sure that your painting is completely finished. Once you have varnished your painting with this spray you cannot work on this watercolor painting again.
Crescent Watercolor Board and Reeves watercolor board
I also have done some paintings on the Crescent Watercolor Board and Reeves watercolor baord. The Crescent Watercolor Board is similar to the hot pressed watercolor paper, but very unforgiving!!! The benefit is that you don't need to stretch it.
Reeves Watercolor Board is also nice, but the board is very thin and it can happen that it starts to buckle. Then you need to wet the back of the board again to get back a flat board. I would not really recommend it.