Aquarellbuch 'Wie male ich realistische Blumen?'
Mein Aquarellbuch (E-book) bietet detaillierte Malinstruktionen und Tips wie man realistische Blumen malt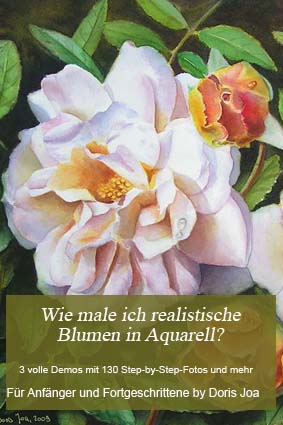 Wollten Sie schon immer wissen, wie man realistische Blumen in Aquarell malt?
Ich zeige es Ihnen.
Dieses Buch habe ich geschrieben, um auch Ihnen die Möglichkeit zu geben, mehr über die Aquarellmalerei zu lernen und wie man realistische Bilder malt.
Ich arbeite mit einer limitierten Farbpalette und in meinem Buch sind 82 Seiten voll mit Tips, Demos und vielen Schritt-für-Schritt-Fotos (allein über 130 Fotos nur in den Demonstrationen).
Click here for the english version
Klicken Sie hier für die deutsche Ausgabe
3 vollständige Aquarell-Demonstrationen
– eine Goldene Magnolie
– ein komplexes Rosenbild mit zwei Rosenblüten, Knopsen, Blättern und Wassertropfen
– eine kleine Studie über eine weiße Rose
Mein Ebook zeigt Ihnen, wie auch Sie realistische Blumen malen können.
Sie können das Buch direkt hier kaufen. Klicken Sie einfach auf den Buy-Now-Button. Paypal wird benötigt. Sollten Sie kein Paypal-Konto haben, senden Sie einfach eine E-mail an doris@dorisjoa.de und ich teile Ihnen meine Bankverbindung mit.
$24.00Add to cart
Sie kaufen ein E-book. Das heißt, Sie werden KEIN gebundenes Buch von mir geliefert bekommen. Was Sie erhalten ist eine Datei – ein E-book – welche Sie auf Ihrem Computer, Tablet oder Smartphone lesen können. Es ist ein .pdf-format und Adobe Reader für Ihren Computer wird benötigt.

Here sind einige Beispielseiten: Bitte klicken Sie zum Vergrößern auf die Bilder.
Jede Demonstration beginnt mit der Zeichnung auf weißem Papier und endet mit dem fertigen Gemälde. Es gibt viele Nahaufnahmen von verschiedenen Schritten. Ich zeige ihnen, wie man Regentropfen malt, wie man Blätter in den Hintergrund integriert, wie man seine Ränder wieder weich macht, wie man Farbharmonie bekommt und mehr …
Das .pdf Format ist sehr gut geeignet, um sich die Ansicht am Bild zu vergrößern. Die Bilder sind wirklich groß genug, dass sie auch vergrößert noch deutlich sind. Das Buch hat über 13 MB.
Adobe Reader ist notwendig.

Natürlich können Sie sich auch das Buch ausdrucken, damit Sie es zur Hand haben, während Sie malen.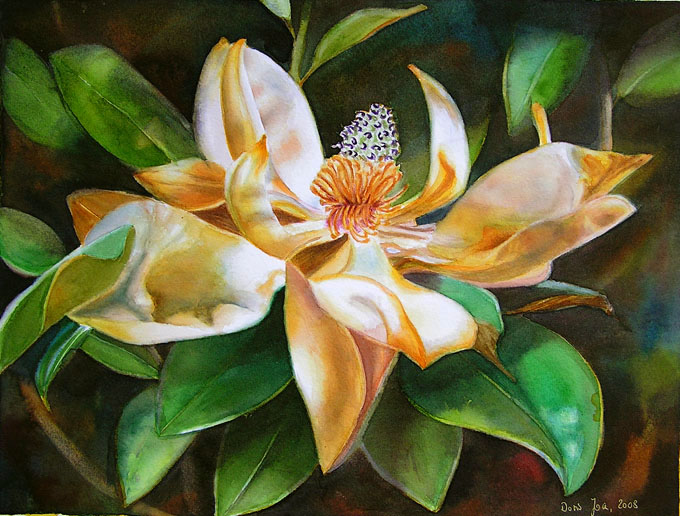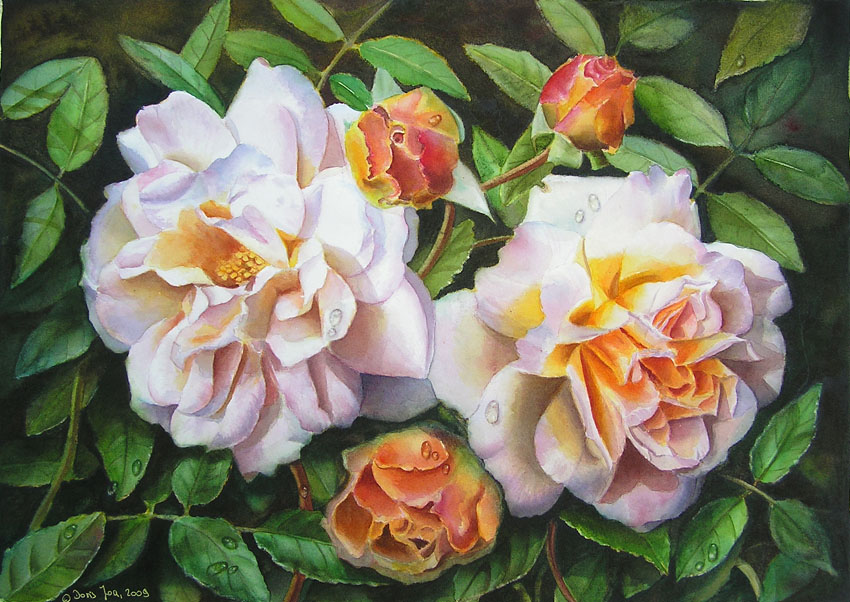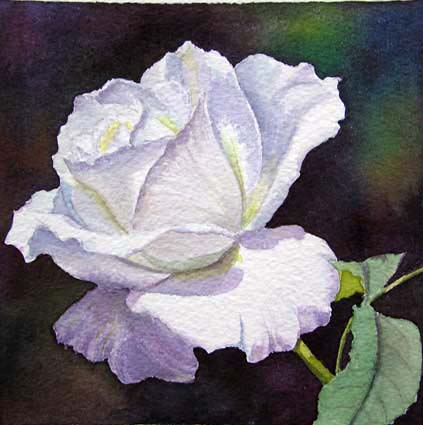 Zudem erhalten Sie:
Drei Referenzfotos mit drei großen Vorzeichnungen, damit Sie meinen Lektionen folgen können.
Some Reviews:
…I recently purchased Doris Joa's e-book and it is without doubt, the best investment I ever made.  The content and instructions are so clear and extremely easy to follow.  As a hobby artist with limited watercolour experience I had been producing artwork where the flowers looked like 'paint by numbers'.  In just one session following the instructions in the e-book by Doris, I produced a rose that I am very proud of and it looks so very real.  The extra bonus was that Doris really went out of her way to answer a few questions I had that were specific to my needs.  Polly
… I love the book – simply beautiful! Please let me know if you do any more, your book is the best I have ever seen.
Barbara H.
… This E-book is a "Must Have" for anyone who wants to learn how to paint watercolor flowers from a Pro!
Doris Joa is a master at painting ANY subject and her flowers are magnificent! I have been blessed enough to be guided artistically by Doris for the past several years and she continues to astonish me with her amazing ability to create the most beautiful flower and figurative paintings as well as assist her students in confidently applying and mastering the techniques she demonstrates.
Pamela S.

Nach Bezahlung (nur mit Paypal möglich) erhalten Sie eine automatische Email mit den Download Details. Der Link funktioniert perfekt. Er wurde von mir mehrmals getestet. Sollte es jedoch wider Erwarten passieren, dass er mal nicht funktionieren sollte, sorgen Sie sich nicht. Senden Sie mir bitte eine Email und ich gebe Ihnen einen neuen Link und bin hilfsbereit, bis Sie Ihr Buch haben.
$24.00Add to cart