How to paint Hydrangeas – watercolor online Tutorial
How to paint Hydrangeas
Learn how to paint Hydrangeas with this watercolor online tutorial. This beautiful blue multi coloured hydrangea is perfect for this lesson.
In this tutorial you will learn
how to paint the multi coloured petals of a blue pink green Hydrangea
how to get smooth washes
how to create warm and cool blues
how to paint the details
how to make the flower look realistic
how to get depth
Painting Hydrangeas makes a lot of fun but it can be tricky to put all the tiny petals together so that the flower doesn't look like a puzzle. If you too want to learn how to paint them then this video lesson is perfect for you.
This lesson about how to paint hydrangeas runs 1:18 minutes and contains all information for you so you too can learn how to paint all the tiny and larger petals of this beautiful Hydrangea.
Below is a video clip from the original lesson. This are just a few parts from the whole lesson, the complete lesson runs: 1 h 15 min.
Reference material:
Reference photo of the Hydrangea
Drawing
Image of the finished study
List of materials I am using
Video Length: 1 hour 18 minutes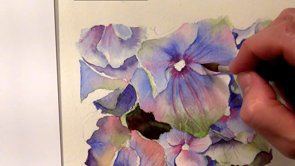 The video can be viewed on your computer, tablet & ipad, any smartphone & iphone. The video cannot be downloaded, but it is available for you 24 hours each day.