Watercolor and oil artist paints the beauty of nature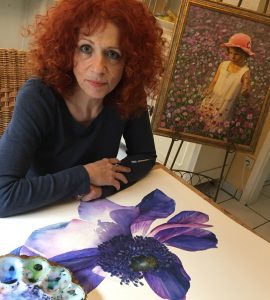 My Name is Doris Joa and I am a watercolor and oil artist from Germany.I started painting in 2002 and what began at first as a hobby turned into one of the greatest passions in my life. In Summer 2003 I decided to become a professional artist.
My mediums are watercolor and oil. My two favorite subjects are Roses and Figurative work. I paint roses and also other flowers in oil and watercolor. Beside Pansies, Rhododendron, Peonies, Daisies and Tulips, there are a number of roses in my gallery on my website: Heidi Klum Rose, Sangerhauser Jubiläumsrose, Rose "Mein schöner Garten", Rose Golden Celebration from David Austin, Rose Innocencia, Rose New Dawn, Rose Clair Renaissance, Rose Queen Mother, Rose Bonita Renaissance and more.
Romantic Realism = Painting Style
My painting style has been described as 'Romantic Realism'. This is also evident in my figurative work, portraits, still lifes and in 2005 I have started a new series of colourful Horse paintings in oil. My postcard (4″x6″) paintings and other small studies have become very popular and are in great demand.
Art Materials
I use only the best quality watercolor and oil paints. My watercolors are painted on 140 Lb Hot Pressed or Cold Pressed watercolor paper (mostly Arches or Lanaquarelle). I am using colours mostly from Schmincke, although there are tubes from Winsor & Newton and Daniel Smith on my palette too.Recently I have started using Aquabord (Textured Claybord) from Ampersand. I like the textures and the possibilities this board allows me to create. Paintings on these boards do not require glass when they are framed.
Oil paintings are done on stretched canvas or hardboard panels. I am using colours from Rembrandt, M. Gamblin, Old Holland and/or Winsor & Newton. I do not use any turpentine in my oil paintings. My medium is walnut alkyd medium and/or walnut oil (both are from M. Graham).
Painting the beauty of Nature
Painting the beauty of nature is a passion.  I am captivated by the sunshine, the shadows, the light and the glistening of a raindrop.
I love viewers of my work say they can reach into my paintings and smell the flowers, feel the velvet of the rose-petals and have the feeling of standing in a garden – where I was when I was first inspired to capture that magical scene.