Watercolor Painting DVD – Technique, Tips, Instructions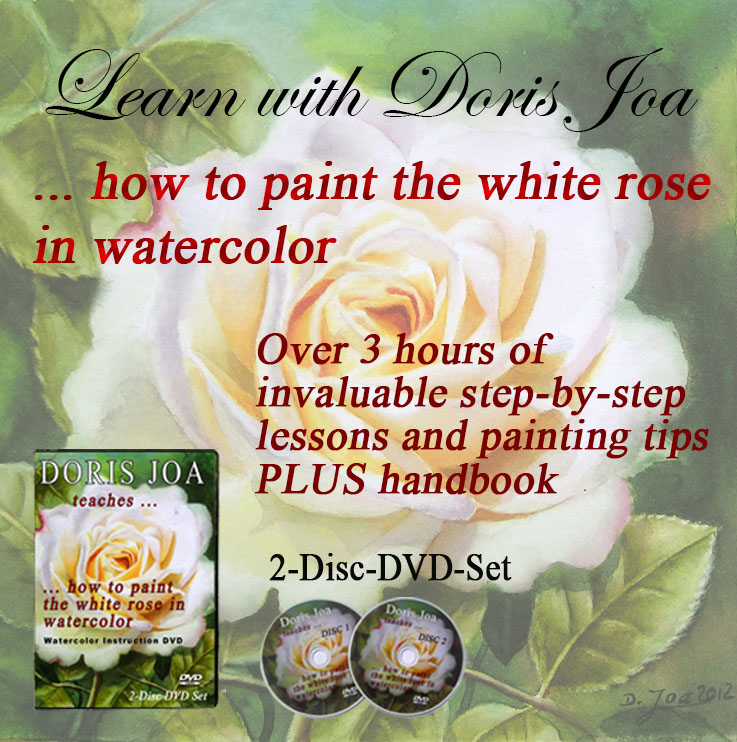 My How to Watercolor Painting Lessons  (available as Watercolor DVDs and Watercolor Videos Online) are the perfect tool for you to learn in your own comfort zone.
This Watercolor Painting DVD shows how to create a complex and complete artwork: How to start with the white Rose, adding the Leaves and Background and how to finish it.
– available as DVD and Online Painting Video
This is a fantastic Rose Painting Lesson – available as Watercolor DVD and as online painting video.  This lesson isn't only focused on how to paint a white rose. All my Watercolor Painting Instructions give you indepth lessons and easy-to-follow-instruction. This Watercolor lesson  gives you all the needed knowledge how to create a complete and complex painting:
I start with the main subject: The White Rose. I show you how to build the form of the rose with layers of colours: Starting with underwashes and then building up the colours; how to make the rose glowing, how to add dancing shadows, how to paint the illusion of reality.
Then I start with the first washes on the leaves and the stems and then I will show you how to paint the background. Each step is explained and this are all easy to follow instructions.
You will learn how to paint the colour white, you will learn how to integrate the rose into the background, how to put it all together, you will learn more about the all important edges, warm and cool colour temperature and so much more.
Learn how to make it a whole! We don't want to have puzzles, we want to have paintings which speak to our viewers. Learn how to put all this different areas together to create a complete painting.
I share everything I know about how to paint with watercolors in this Watercolor Painting DVD.
Learn:
how to use colour temperature
how and where to use the variety of different edges (soft edges, lost edges and hard edges)
how to create a dark background so that the rose "pops"
how to use light, midtones and darks
how to create the three dimensional and realistic looking rose
how to create colour harmony in your painting
where to use underwashes so that the painting glows
how to create cast shadows and darks at the basic of a rose petal
how to integrate the rose & leaves into the background – putting it all together and of course
how to paint the colour white.
You can follow each step very easily. Doris holds nothing back and she explains what she does and why in an easy and understandable way.
You will get the full reference material Doris is using in this Rose Painting DVD – so you too can create this rose painting by yourself and immediately use your new knowledge. To make it much more easy for you Doris has written an additional handbook which gives you again all the needed information immediately. All this information shows you how to paint with watercolors and help you to create a complex and complete painting by yourself – no matter if you paint a rose or another flower.
Disc One:

On Disc One of this Watercolor Lesson Doris starts with the first washes on white paper. She shows how she starts with the first underwashes and then continues to create the shadow colours on this stunning Rose 'Clair Renaissance'. Doris builds the form of the rose with fine washes. She creates a glowing center and then she begins the first washes on the leaves. You will learn the methods and techniques Doris uses, so you too can create stunning and realistic watercolor flowers and roses of your own. These are easy to follow steps as Doris constantly gives insights into the colours she uses and she also explains how to build the form of the rose and how to make it looking real.

Learn how to paint the beautiful rose in an easy and uncomplicated way.
Learn what Doris does and understand why.
Painting is not only colouring a subject. Doris shows how she creates her successful paintings.
Short Preview of the Painting Video
Some demonstration photos from the Lesson: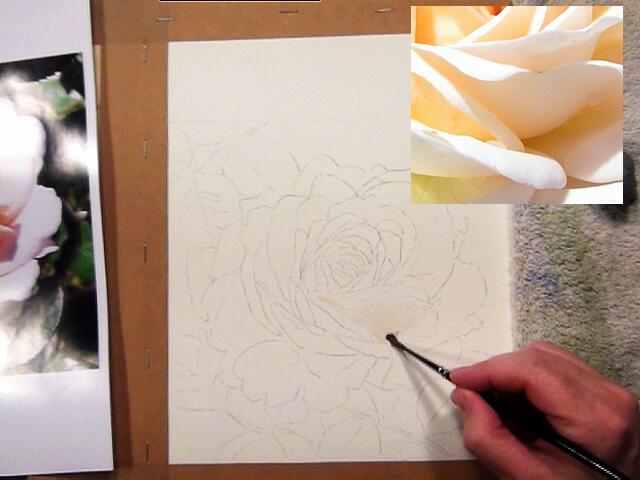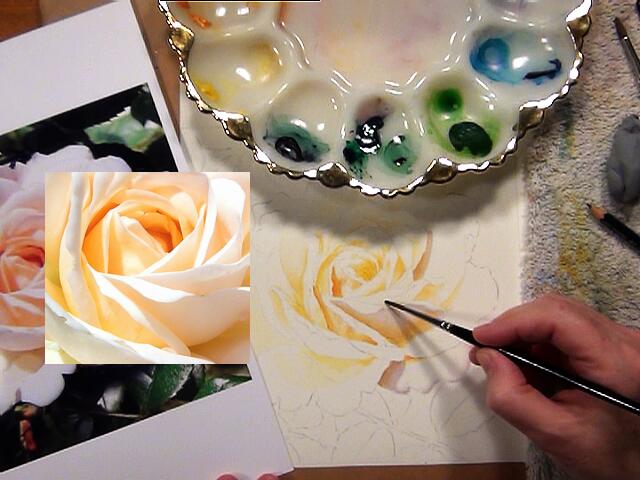 Doris explains each step -Learn to soften the edges – Learn to create beautiful shadows.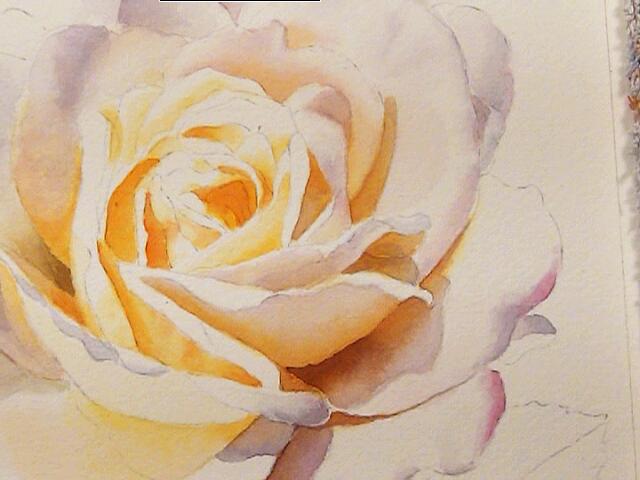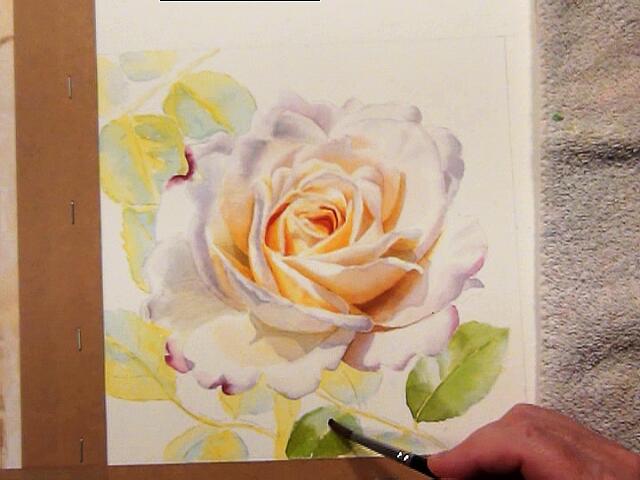 Learn to build the form – Learn to paint the leaves
Disc Two:

On Disc Two Doris starts with the ever-important background. Learn how to build beautiful backgrounds – how to create the feeling of being in a garden. She shows how to handle the edges, how to create depth and atmosphere to the background. She then finishes the leaves and then comes the most important step: Putting it all together. Doris teaches how to integrate the rose into the painting and explains all needed steps.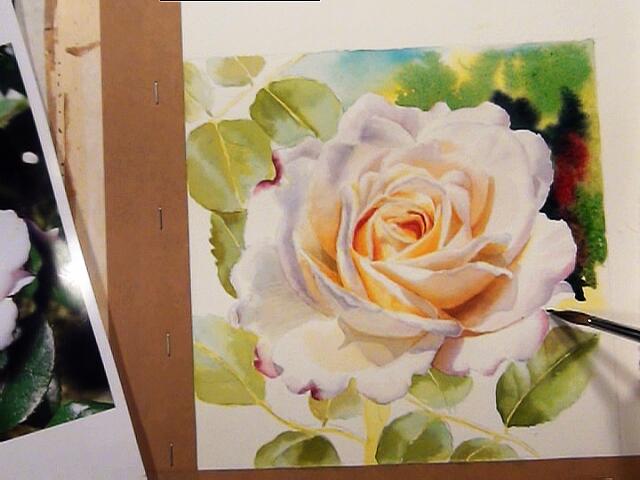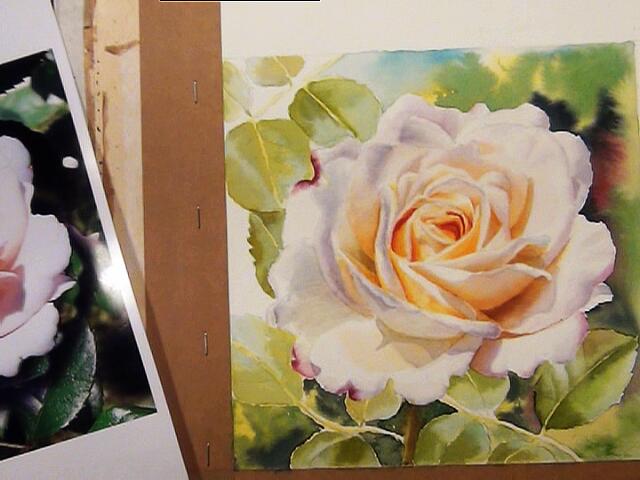 Starting with the background – finishing the leaves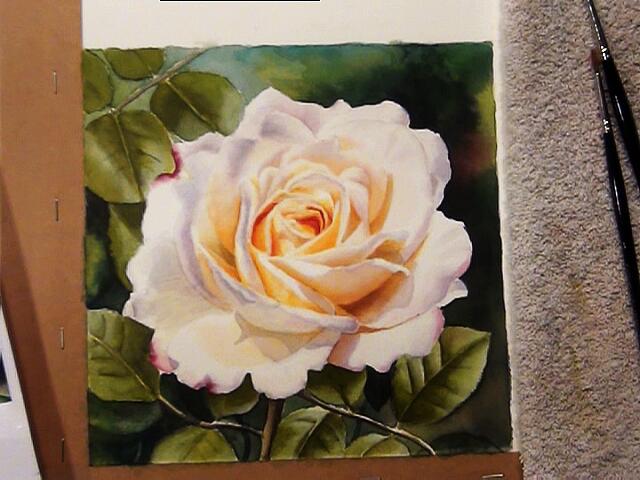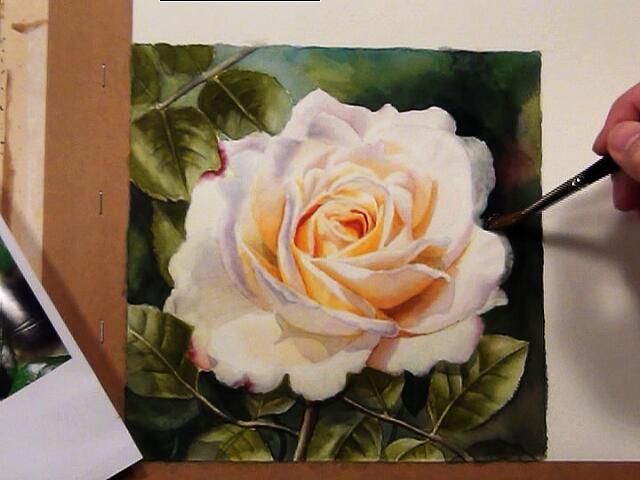 Learn how to create depth and atmosphere in the background
Painting Video –
More Previews

– DISC 1 and DISC 2
These previews are showing more parts of the content, but there is only music added to the background. Of course on the DVD/Video you will hear Doris speaking and explaining what she does and why.
You will love this watercolor DVD if  you ever wanted to learn how to paint realistic roses and flowers in an easy and uncomplicated way.
Doris Joa teaches in this watercolor painting dvd – how to paint with watercolors, how to paint a white rose, how to add the leaves and the background and how to put it all together. Watch over Doris' shoulders to see her creating the white rose step-by-step.
Painting Video: 'How to paint the white rose'
Running time: 3 hours
2-Disc-DVD-Set
complete Reference material:
Image of the Reference photo
Drawing
Image of the finished painting
PLUS Handbook as invaluable tool with all important steps mentioned again

PLUS FREE Bonus-Rose-Tutorial
Get it as Watercolor DVD Format or as Video Online Lesson
Watercolor DVD: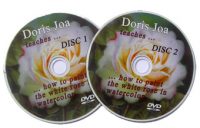 The Watercolor DVD(s) will be shipped within 24 hours after the receipt of payment. Shipping costs are 8 USD worldwide. Free Shipping is possible when two or three DVDs are bought together. Then the code for free shipping is: dvd-free.
2-Disc-DVD-Set
Shipping Costs: 8 USD
Price: $39 USD

Watercolor ONLINE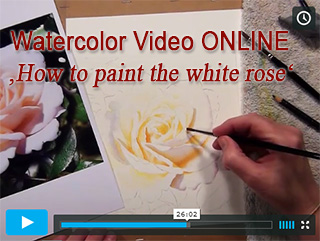 Online Video means that you can watch the video immediately after your purchase. You will get a file with a password to view the video online. Downloads are not offered. But the video is there for you 24 hours a day. You can watch in on your tablet, smartphone or computer – when ever you want.
no shipping costs
Price: $34 USD

$36.00Add to cart
BONUS FREE TUTORIAL
Receive bonus free tutorial with your purchase of my Watercolor DVD 'How to paint the white Rose'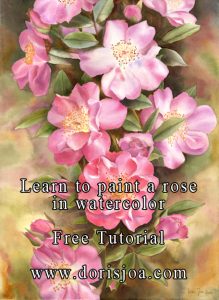 With the purchase of this DVD/Online lesson
you will get my very detailed
step-in-step-demonstration
(see photo left)
about how to paint a pink rose in watercolor
as a THANK YOU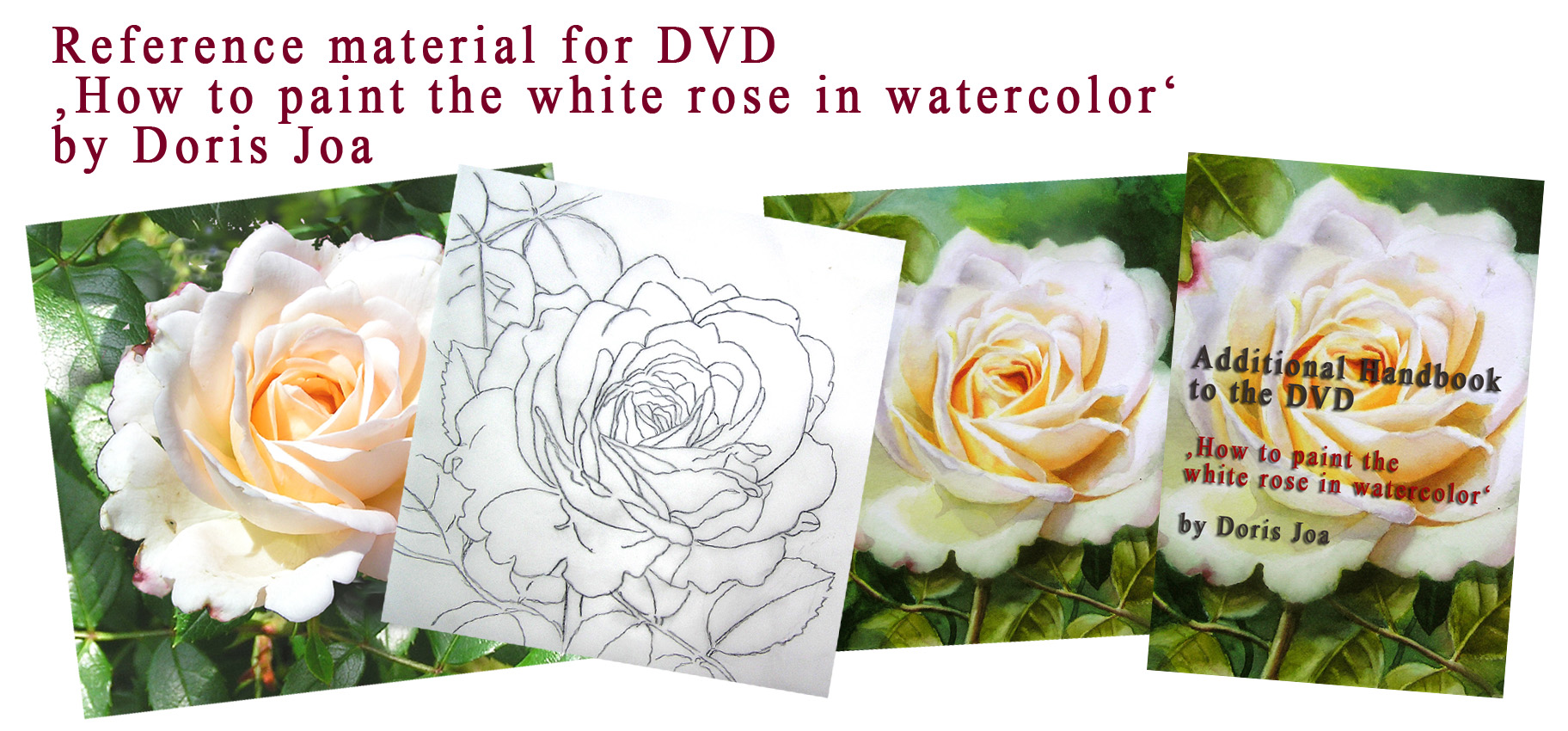 With the purchase of this watercolor instruction dvd you will get also
image of the Reference photo
image of the drawing
image of the painting
a useful handbook in .pdf
Info about Reference material can be found in the menu of Disc 2.
"I created this useful handbook with worthful tips to make the painting process easier. You don't have to search through the film when you need a special info. You can print out this handbook so you have it at hand while painting and you will find all the information immediately.

In the handbook is information about paints, paper, brushes, also I discuss the handling of edges and share other useful tips for painting."
Some Reviews:
Hi Doris, Just to say how much I am enjoying watching your DVD, I have just printed out the handbook which is full of useful tips, and I am now looking forward to painting (hopefully) a successful rose portrait. I always enjoy visiting your site…. Best Wishes
Hazel, USA

I love the DVD. It is so beautiful to see the rose coming to live on the paper. You let us see step by step how to paint a white rose, leaves and a beautiful background. Very detailed with clear explanation how to paint, what colors to use and how to mix them. It is very helpful and with this DVD you inspired me to paint again.
Yvonne de V. The Hague, The Netherlands

Should have written to you yesterday to let you know that the DVD arrived but I got so caught up in watchin your CDs that I couldn't tear myself away! You are a wonderful teacher! I can't wait to watch them again. I took notes the first time …..you share so much information that it make me want to try practicing right away but I have to get some paper first.
Gail B., USA

I have watched a good part of the White Rose video & I am very pleased that I bought it. You are to be congratulated, as the detail, camera angles, painting techniques are perfect! Everything is explained fully. I would have no hesitation in recommending your White Rose Video to anyone who wants to improve their water colour technique. You are very welcome to quote me.
Marie, Australia

Thank you very much Doris.
I got the file and am enjoying the videos immensely. Your work is awesome – so beautiful! And what I have had time to see of the videos, they are very good – love to see how you do every petal. I hope soon to purchase the video on leaves.
Thanks again so much for this wonderful learning experience.
Susan M., USA

Have you ever wanted to learn how to create realistic stunning roses and flowers in watercolor so that they look alive on the wall?
Doris' Watercolor Instruction DVD shows you how to paint them with using only the common watercolor techniques 'wet-in-wet', 'wet-on-dry' and 'dry-on-dry'. Easy and uncomplicated.
Painting the color white in watercolor is pure pleasure. She will teach you how to use color, form and tone, so you – too – can create beautiful paintings depicting your favorite roses.
Have you always wanted to understand how to paint the colour white in watercolour?  I use the same knowledge on all my white subjects,  no matter if I paint white flowers, white fabric or any other white subject.
THESE ROSES BELOW WERE PAINTED WITH THE SAME METHODS AND TECHNIQUES!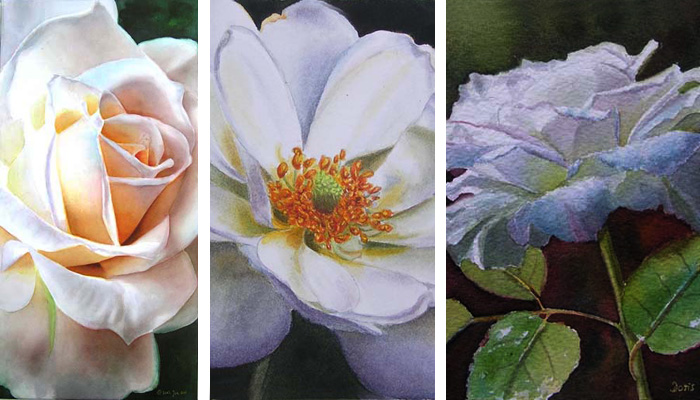 This step-by-step Watercolor DVD Workshop: Create rose paintings with background – will demystify painting roses in watercolor.
"My greatest passion is to capture the subtle nuances of light, shade and color in beautiful rose and floral studies. It is only natural that a delicate white rose is my choice of subject matter for my first watercolor painting dvd.
Follow along with me as I teach you how to capture this beautiful rose in my 'naturalistic realism' style of painting. Painting in watercolor is a joy.
Let me show you how I paint, step by step, so you too can create a painting of this beautiful rose."
Watercolor Lesson ' How to paint the white rose '
If you want to learn more about how to paint with watercolors then make sure to check out my Leaves DVD/online Workshop as a Must-Have-Tool for your flower paintings. For more indepth lesson for different flower studies then my How to paint realistic stunning Flowers-Lessons are perfect for you.
Check out all available DVDs and a Special Offer
Coupon-Code for free shipping is: dvd-free
Shipping time: The DVD(s) are going to be shipped within 24 hours after the receipt of payment – with tracking number. The post (DHL) promises a short shipping time worldwide within 5-10 days to USA, Australia, NZ …, but sometimes they need longer time, around 14-20 days. Please be patient as each DVD will arrive. Shipping within Europe is of course much faster.