Watercolor Painting of a beautiful white pink rose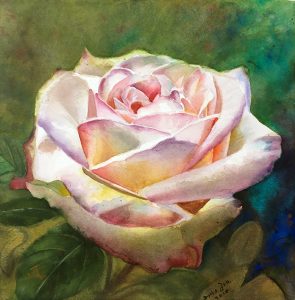 I have created a new watercolor painting. My favorite subject was a rose – a white pink rose. It is painted on 140 Lb Arches cold pressed Watercolor paper – but as a canvas. I stretched my paper by myself so the painting can hang without frame and without glass. Click to learn more about making your own canvas.
This time I chose a more colourful background as addition to this beautiful rose. I played a lot with my greens and blues. Red sparkles were added to the wet paper to give the background more life.
My favorite blues and greens are ultraminarine blue and cobalt teal as also green gold and sap green and turqouise. At the last stages I also added some gold to make this area more rich in colour – but I also wanted to have a nice contrast there against the blues in the background. To the blues I also added some violet colour as some beautiful darks. The background was really playing with the colours and I absolutely enjoyed working in this way.
This painting is in size 12×12 inch and for sale. Click for more information about this watercolor painting.