Watercolor Painting of a deep red Hollyhock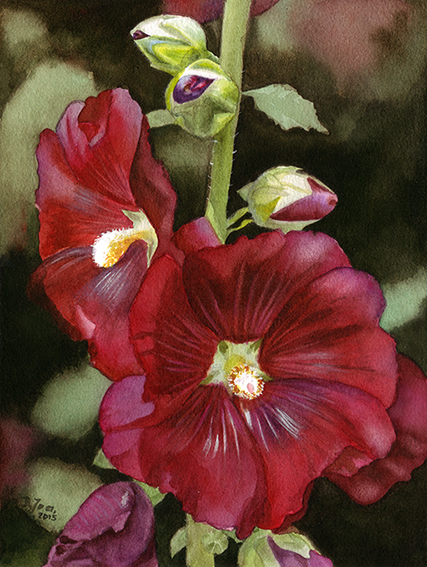 New Watercolor Painting of a deep red Hollyhock
I have created another flower painting of a deep red Hollyhock. I especially love the colour of this flower.
Which paper did I use?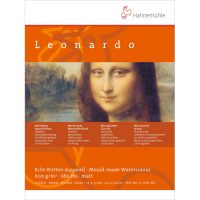 For this painting I used a different watercolor paper as I usually use. I bought a block of 10 sheets of Hahnemuehle – Leonoardo – Mould-made Watercolour paper -Echt-Bütten Aquarell, 600 g/m² – 280 lbs -, natural white, matt, 100 % cotton rag.
Using paper in this size (280 lbs) means that you don't need to stretch it. I just painted my painting on the block and removed it when it was finished. The surface has a bit texture but it is also smooth. It is possible to work in layers. It also allows you to remove some of the paint – if neccessary.
Which colours were used for the reds?
To create the reds of this Hollyhock painting I used
Perylene Maroon (for the darkest reds)
Anthraquinoid Red (for the real red)
Purple Magenta (for the cool reds)
Winsor Violet (for the light areas)
Mix of Anthraquinoid Red & Phthalo Green (for the black reds).
This Hollyhock flower watercolor painting is available for sale here.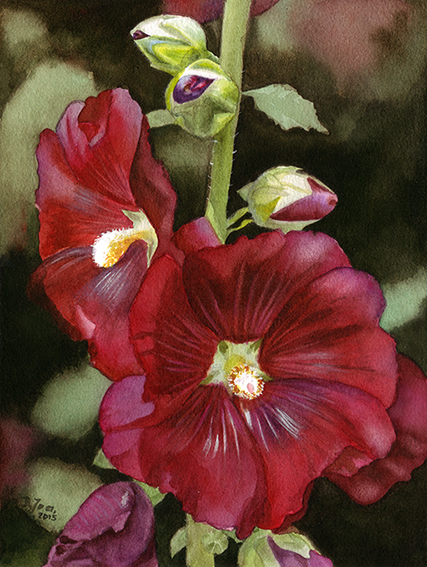 'Hollyhock'
Watercolor Painting – size: 8,8″ x 11,7″ (22,4cm x 29,8 cm)
painted on 280 Lb Hahnemuehle watercolor paper
© Doris Joa