Work in Progress – Figurative Painting
I have finally started with a new figurative painting in watercolor. I wanted to do this for a long time now, but I did have so much fun with the small watercolor flowers, but now it is highest time for me, I could not wait longer.
Here is a photo about how it looks now.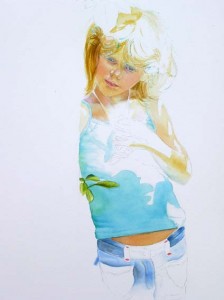 I think it is very helpful for me to view the painting on the screen, it helps to see wrong areas much better than to have the painting right in front of you. Don't know why this is so.
There is really no area, which is finished yet.
For the skin tones I have used an underwash with Raw Sienna, after this I added a mix of Raw Sienna and Scarlet Lake. I also have phthalo blue (green shade), Burnt Sienna, Translucent Orange, Alizarin Crimson, Aureolin, Winsor Violet, Sap Green and also Ivory Black on my palette. Oh and for the jeans I have added phthalo blue (red shade) to the Palette.
There are some fine hairs, which I have saved with the Masquepen (which is a cool Blue Masking Fluid).
There are already some areas with which I am not happy, but this happens always and usually I can fix it. Will see how it will go with this painting. I am doing this work on coldpressed paper and I can't wait to go on.
Thanks for stopping by.