Hollyhock in Strong Light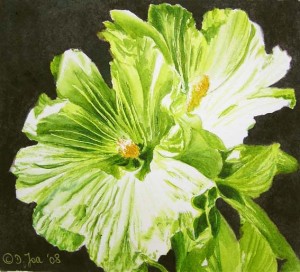 This Original Watercolor painting of a Hollyhock is my latest work. It is painted on hotpressed Watercolor paper and size is 6″x6″.
Actually this Hollyhock has a lemon yellow colour but it was surrounded from a lot of green which is shining through the delicate petals.
I have painted this flower with using Lemon Yellow and Sap Green. For the stronger greens I added some phthalo blue. Only in the center I used some warm yellow (Indian Yellow and Translucent Orange).
I really had fun to create all the folds and I like the dramatic look of this painting.