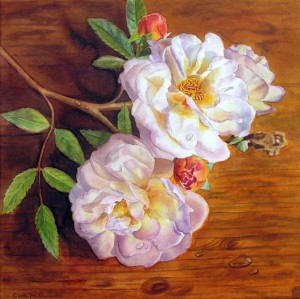 No title yet – watercolor, size 16″x16″
copyright:  Doris Joa
For those who don't know my Rosesblog I want to show you one of my newest Rose paintings. It is a bit different than usual (especially in the background) and I really enjoyed working on it. It is painted on paper on stretcher bars, to read more about this Method please go to my Rosesblog by clicking here.
Some other News:
I have sent one of my Rose paintings to the Society of Botanical Artists in UK. And I am happy that it was selected for the Society of Botanical Artists Exhibition. This prestigious exhibition takes place at Westminster Central Hall, London from April 24th to May 3rd. I was not sure if this Rose painting would make it in, because it is no really botanical work. But I am happy that it is IN. Here is the painting:
Rose Ghislaine de Féligonde – watercolor, size: 12″x16″
copyright: Doris Joa
By the way: This painting is one of the full Step-by-Step-Demonstrations in my E-book.
Some of my work was published in the Porch Magazine. The editors thought that my work would have the romantic feel for which they were looking for their Valentine's Issue.
I already have one copy of this Issue and I am very pleased with the quality of this Magazine and I am very thrilled that they are showing 6 of my paintings.