Roses in my Garden and a new Rose Painting in Watercolor

Pink White Rose with Bud
medium: Watercolor, size: 12×12 inch (30×30 cm)
painted on stretched canvas
(140 Lb Arches coldpressed Watercolor paper)
© Doris Joa
Here is one of my newest Rose Paintings. It is a pink white Rose with a bud and some leaves painted in watercolor on stretched canvas. It means that you don't need to put the painting behind glass. It can hang without a frame, since the edges are painted, but of course you can put it in a frame like an oil painting without glass. The painting is varnished, so you can hang it without any worries.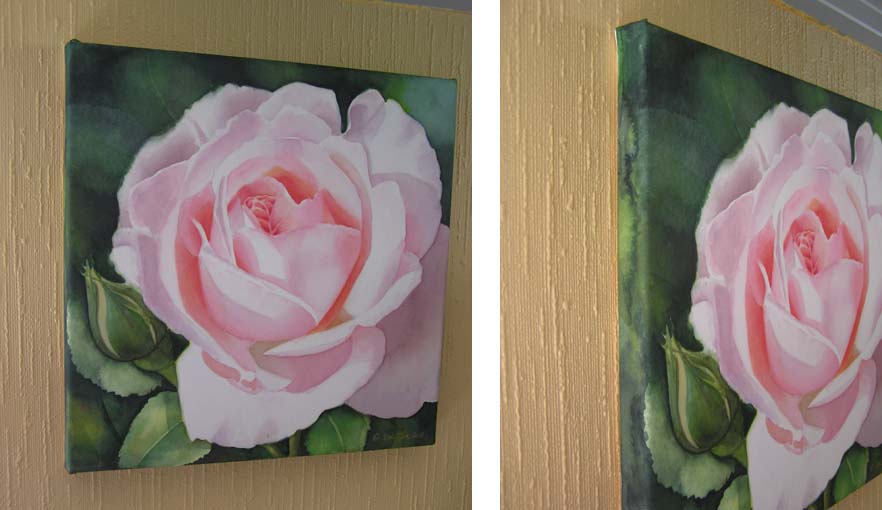 Excample of how the painting looks on stretched canvas with painted edes – © Doris Joa
Size of the painting is 12×12 inch (30×30 cm), it is available for $210 plus $10 shipping.
For any questions please contact me using my contact form.
Maybe my FAQ page will give you already some answers.
Beside my new watercolor rose painting I would like to share some of my roses with you.
For my rose paintings it is very important for me to have a lot of reference photos. A lot of roses are growing in my garden but unfortunately not each rose has beautiful blooms every year. Often it rains too much and the rose is not able to show its full beauty.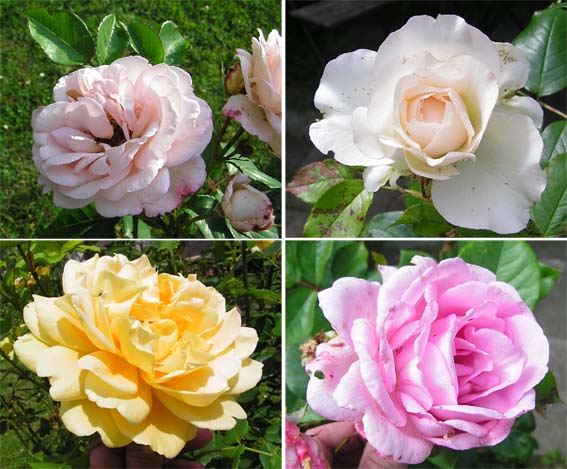 © Doris Joa
from left to right:
first row: Rose Clair Renaissance; Rose Honoré de Balzac;
second row: David Austin Rose: Golden Celebration, Rose Ghita Renaissance
Last year I added the Rose Ghita Renaissance and the Rose Honoré de Balzac to my rose collection in my garden. Although I was waiting the whole summer to see the roses in full bloom and in its full beauty I was so disappointed to see that too much rain made it not happening. Grrr……….
But this year it seems that I have a bit more luck with them and I think I finally got some good referencephotos for future paintings.
I hope your roses and flowers are blooming spectacular in your garden!