Watercolor Painting – Rose Honoré de Balzac – Using photoshop for composition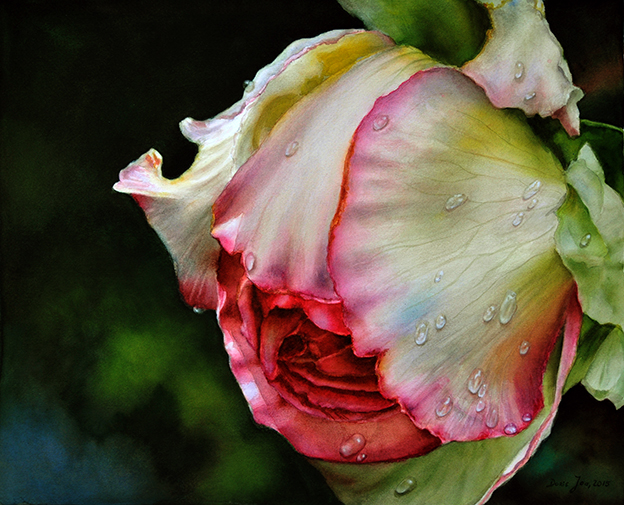 Rose Honoré de Balzac
watercolor painting on 300 Lb Fabriano Watercolor paper
size: 16″ x  20″ (40cm x 50cm)
© Doris Joa
This Rose Watercolor Painting of the beautiful Rose Honoré de Balzac is one of my newest paintings.
I bought this beautiful rose some years ago and wanted to paint it for a long time now.  Sometimes it really needs its time until the idea speaks to you – what you want to do with a painting. This year I was really rewarded with many blooms and my initial idea was at first to do a painting with many blooms and buds. (Maybe this also will happen 🙂 But when looking through my reference photos there was one photo which was speaking to me. I enlarged it and then I only enlarged the rose and played a bit with Photohop. It is rarely that we have reference photos which are really good to work from. I also don't want to copy the photo – I want to make art.
Photoshop is a wonderful tool  to play with your reference photos. I use it for creating compositions, playing with light and darkness, playing with the background, adding images from other photos and so on. There are so many possibilities.
The background of the reference photo was very busy and I thought that a dark and simple background would work best to show the beauty of the rose. No leaves, no suggested flowers – nothing – just a hint of green and blue to inspire the viewer. In Photoshop I darkened the complete photo and also the rose to see what it could look like. Of course I could have done a sketch and play with colours on paper, but Photoshop does the same for me.
Are you too using Photoshop or any other photo program to work with compositions and play with your photos?