Horse ACEOs at Etsy and a Landscape
I have updated my Shop at Etsy with more ACEOs of my colourful horses. They are all looking so wonderful together in real life.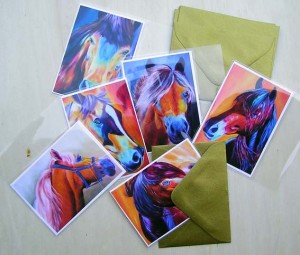 I am not happy with the photo above, because it wass taken in bright sunlight, so the colours are not really so as they are in real life. I need to do a new one, when my accu is full again.
Beside that I have done something new for me. I have painted a landscape in watercolor. It is only a small one, but I really had fun to paint this. Size is 3″x6″ and it is painted on Arches coldpressed Watercolor paper.