E-book endlich in deutsch erhältlich – E-book finally in german available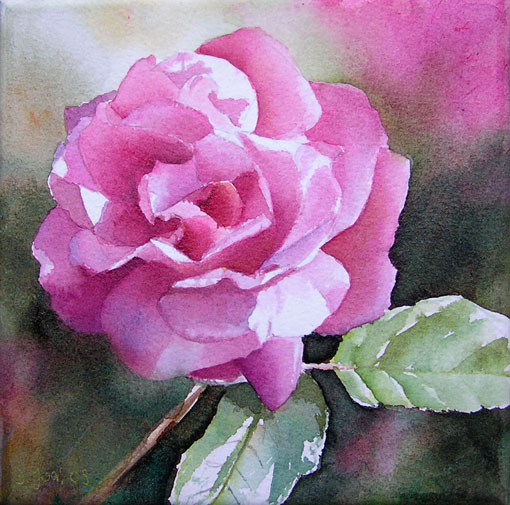 My E-book "How to paint realistic flowers in watercolor?" is finally in german language available. It has needed really long time, but now it is there.
I am currently working on a large new figurative painting. There are so many things in this painting which are absolutely a challenge for me, so I cannot wait to go on and to see how it develops. In the meantime I have painted this small pink Rose in watercolor, size is 6″x6″.
deutsch
Mein E-book "Wie male ich realistische Blumen in Aquarell" ist endlich in deutsch erhältlich. Es hat auch lange genug gedauert. Für mehr Infos über das Buch klicken Sie bitte hier.
Zur Zeit arbeite ich an einem großen figurativen Bild. Es sind so viele Dinge in diesem Bild, die eine riesige Herausforderung für mich bedeuten und ich kann es nicht erwarten, weiterzumalen, nur um zu sehen, wie es sich entwickelt. In der Zwischenzeit habe ich diese kleine rosa Rose in Aquarell gemalt, Größe: 15×15 cm.