Moo, Tax, Facebook, Pink Peony …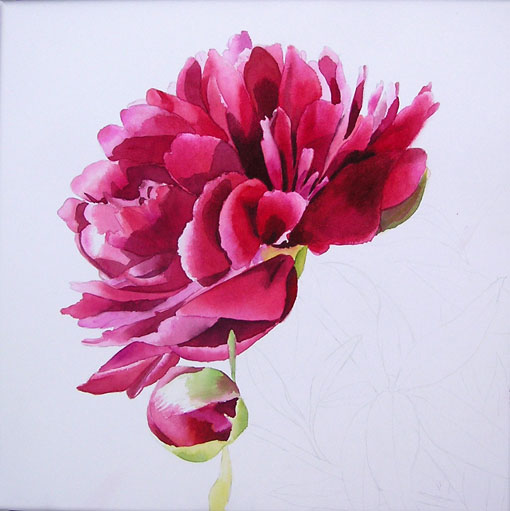 I am working on a deep pink or better magenta peony in watercolor, which just grows in my neighbours garden. I thought I could have finished it already but I got so busy with doing our Tax. I am very late this year with the Tax and now it is highest time to clear my desk from all these boring things. So I will finish the Tax today and I hope there is still time enough for my Peony.
I really love the colour of this Peony. It is so strong and deep. For the cool pinks I used Brillant purple from Schmincke. I really love this colour. For the warmer areas I mixed this Brillant purple with Alizarin Crimson (also from Schmincke) which makes really a strong colours. And for the shadow areas I added a touch of green (Phthalo Green or Sap Green works perfect). This mix makes a really beautiful dark shadow.
I am thinking now about the background. Since the Peony is so strong I think I will go with a light background, perhaps in the way as I did on my Red Rose in my previous post.
Do you know Moo.com? Some days ago R. Garriot made some posts in his blog about business cards and where to get good quality for a good price. And Kim Denise told about her business cards which she got from Moo! It is a European printer.
I visited the site from Moo and I am amazed about that what they are offering. One great thing is that you can have printed multiple images in a single order. And beside the usual size for a business card they offer MiniCards. This size is really cute, just 28 mm x 70 mm and you can get 100 cards from 13.79€ plus shipping.
I only have a small rest of my old business cards and I need new ones. And I can't wait to get started and try Moo out. My previous business cards were made at psprint.com and also at Vistaprint.com. I liked the Vistaprint cards the best because the colours were right, the colours in the cards which I got from psprint.com were wrong and I didn't like that. When I get my cards from Moo I will tell you about them.
I have finally set up a side at facebook. Wow, I am amazed about the possibilities there and how easy it is to connect with your friends.
If you want to join me there please click on the image below. Hope to see you there.
Doris Joa's Profile


Create Your Badge
Deutsch: Ich arbeite zur Zeit an einer dunkelrosa – magenta Pfingstrose in Aquarell, welche zur Zeit in Nachbars Garten wächst. Ich wollte sie eigentlich schon vor einigen Tagen fertigstellen, aber dann musste ich die Steuer machen und das hält natürlich auf. Ich bin sehr spät mit unserer Steuer dieses Jahr aber es ist höchste Zeit meinen Schreibtisch von diesen langweiligen Dingen zu befreien. So werde ich heute als erstes die Steuer fertig machen und dann hoffe ich, dass genügend Zeit übrig bleibt, um diese Pfingstrose fertig zu malen.
Die Farben von dieser Pfingstrose sind einfach toll.  Für das "kalte" Pink benutzte ich Brillant Purple von  Schmincke. Ich mag diese Farbe. Für die wärmeren Bereiche mischte ich dieses Brillant Purple mit Alizarin Crimson (auch von Schmincke) . Beides zusammen ergibt wirklich eine starke Farbe. Und um die Schatten darzustellen fügte ich zu diesem Mix ein Touch grün bei  (Phthalo Green oder Sap Green sind beide perfekt). Diese Mischung ergibt wirklich eine schöne dunkle Schattenfarbe.
Nun denke ich über den Hintergrund nach. Da die Pfingstrose schon so stark in ihren Farben ist wird ein hellerer Hintergrund das Beste sein, vielleicht in der Art und Weise wie ich ihn in meiner Roten Rose gemalt habe ( siehe meinen vorhergehenden Eintrag).
Kennen Sie Moo.com? Vor einigen Tagen machte R. Garriot in seinem blog einige Einträge über Visitenkarten und wo man gute Qualität für einen guten Preis bekommen kann. Und Kim Denise erzählte über ihre Visitenkarten, welche sie bei  Moo! machen ließ. Moo ist ein europäischer Drucker mit Sitz in England.
I habe die Website von Moo besucht und ich mag was sie anbieten. Eine tolle Sache ist, dass Sie verschiedene Bilder in einer Einzelbestellung auf ihren Visitenkarten gedruckt haben können. Neben der üblichen Größe für Visitenkarten bieten sie auch  MiniCards an.  Diese Größe ist wirklich niedlich, gerade mal 28 mm x 70 mm und man bekommt 100 Karten ab 13.79€ plus Versand.
Ich habe nur noch einen kleinen Rest meiner alten Visitenkarten und ich brauche neue. Ich kann es kaum erwarten,  Moo auszuprobieren. Meine alten Visitenkarten wurden gedruckt von psprint.com und auch von Vistaprint.com. Die Karten von Vistaprint mochte ich besser, die Farben waren richtig. Die Farben in den Karten von  psprint.com waren falsch und sie gefielen mir nicht sonderlich. Wenn ich Karten von Moo habe, werde ich Ihnen berichten.
Ich habe endlich eine Seite auf  facebook. Wow, ich bin überwältigt über die Möglichkeiten dort und wie man mit seinen Freunden in Kontakt bleiben kann.
Bitte klicken Sie auf das Bild von Facebook (auch in der rechten Sidebar vorhanden), um sich meinem Freundeskreis anzuschließen. Ich hoffe, ich sehe Sie dort.