Pink Magenta Peony Painting in watercolor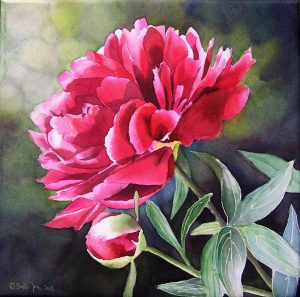 I finished my Pink Peony Painting in watercolor. Or should I say better Magenta. The colour is so strong, that maybe Magenta or red would fit better. Size is 12″x12″ and it is painted on stretched watercolor canvas.
Price: $130 plus $10 shipping (airmail and insurance)
I am currently working on my website. In the right sidebar you will see now a new link to available Original paintings and there will also come a link to available  fine art prints. I want to have the possibility for my customers to buy directly from my website instead of opening an account on Etsy.
The page is still under construction. Only some links on a few images are working yet.
Deutsch: Meine rosa-magenta farbenes Pfingstrosengemälde in Aquarell ist fertiggestellt. Größe ist 30cm x 30cm und gemalt ist sie auf Papier auf gespanntem Keilrahmen.
Zur Zeit arbeite ich an meiner Webseite. In der rechten Leiste finden Sie nun einen Link für noch erhältliche Originalbilder und es wird noch ein Link für Drucke folgen. Ich möchte meinen Clienten die Möglichkeit geben, direkt von meiner Webseite zu kaufen, anstatt sich erst auf Etsy ein Konto zu eröffnen.
Die Seiten sind noch in Bearbeitung. Nur einige wenige Links funktionieren bis jetzt.