Rose Painting in Watercolor "Sangerhauser Jubiläumsrose"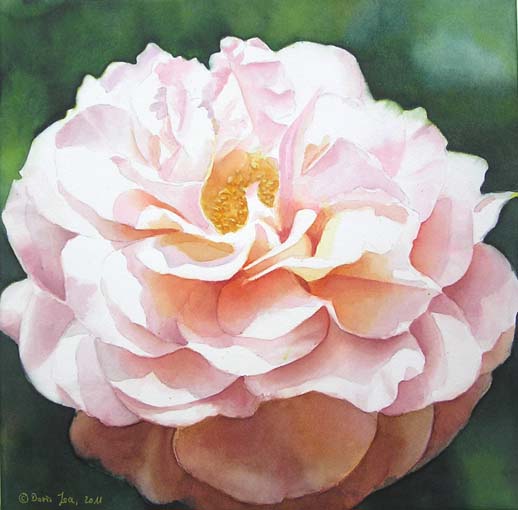 "Sangerhauser Jubilaeumsrose"
size: 12×12 inch, 30×30 cm
painted on stretched Watercolor canvas
Price: $210 plus $8 shipping insured
[wp_cart:Sangerhauser Jubilaeumsrose 12×12:price:210:end]
If interested please simply click on the 'Add to Cart'-Button. In the left sidebar the shopping card will appear. Payment is possible with Paypal – easy and safe.
This is one of my latest Rose Paintings. It is a portrait of the Rose "Sangerhauser Jubiläumsrose" which I planted some years ago in my garden. I like the warm yellow pink colour of this rose and especially I love to describe the colours with watercolors.
Some days ago I ordered some new colours from Ken Bromley Art Supplies in U.K. The order was despatched at the same day and the colours arrived here in my studio within a short time. Of course I always love to get new colours and to try them out, but I especially liked that there was an extra note in the package which told me that my parcel was packed with care by Tony and he added the words "Happy Painting!". I really liked this and I think this is a great customer service. Usually when I get packages only a bill is added to my products. But to get an extra note makes the package really special and it makes the customer feel special.
I too add always extra handwritten notes in each of my packages. For me each customer is special and I want that my customers feel so.