Little girl dreaming in the afternoon sun in the grass – Figurative Painting in Watercolor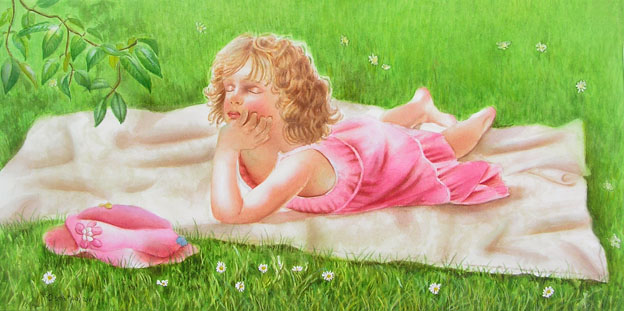 "Dreamy Afternoon"
Watercolor on stretched watercolor canvas
size: 12″x24″ (30×60 cm)
© Doris Joa
I already did this painting a year ago, but I was never really happy with it. In the first version the shadows were looking wrong to me, I always thought they'd look dirty.
That is the problem with watercolor: Once you have the wrong color it is sometimes really hard to get the right color there. In my earlier version of this painting it was not possible. I used too much blue in the shadows and I didn't like it. It was a strong blue and I was not able to make the shadow colour better.
Still I loved the idea of this painting I decided some weeks ago that I'd do this painting again. I wanted to describe how little girls enjoy themselves, how they can get lost in their own world, here and there playing and then they are tired and they simply sleep whenever they like and just at the place where they are. We adults rarely take this time for ourselves, always busy instead of simply enjoying an hour in the sun. Of course in my painting it is a wonderful place for a little girl in her beautiful pink dress to sleep, laying in the sun, the leaves are swaying in the breeze and the cozy blanket is just so inviting, the hat is just put aside and lays in the grass – the perfect moment for a dreamy afternoon.