Figurative work Progress and an Orange Challenge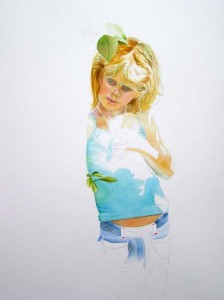 In one of my previous posts I showed a picture of a figurative painting, on which I am currently working.
I have worked more on this, especially this time on the hair, to get a better suggestion how it will look. I must be careful to save all the whites, where the sun hits the hair.
In the hair I used the colours Raw Sienna, added Translucent Orange for the very warm area, I also added burnt sienna and phthalo blue (green shade). In the next layers I also will add some green and alizarin crimson and mixes of all the other colours. I simply try to use all the colours, which I also use in the rest of the painting. With this I am getting colourharmony in the painting, which is important.
Now to the Orange Challenge:
I belong to a very wonderful group of artists in UK, USA, Canada and Germany (me!). I am proud to belong to this group – we are only Ladies and we support each other. Some weeks ago we decided to do a Painting Challenge each month. The theme for October was "orange and botanical" and today on 15th October we had to show our work. And now what do you think, what I have painted??????
Yes, a Rose. It is a wonderful Rose painting and I am very pleased with this result.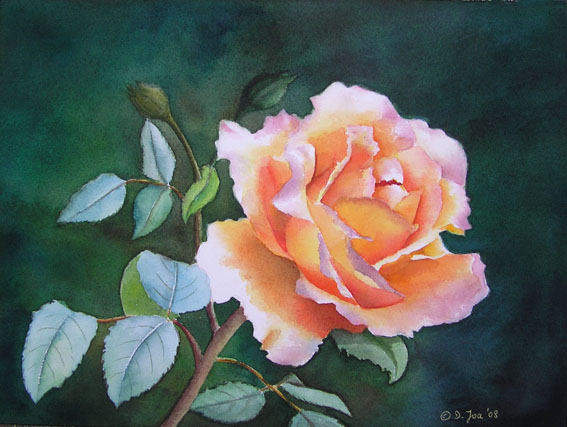 To view all the other artists work, please click here.
You will realize that I have changed the Layout of my site. I hope you like it. Please let me know when you are missing any link or Info and/or when something is not working correctly. This would be much appreciated. For some reasons I was not happy with the other Layout and I think this will be much more perfect for me.