New colourful Horse painting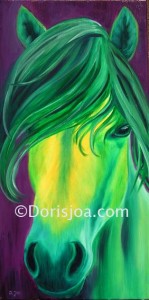 I have created a new colourful Horse painting, but this one is very different to the others. As you see it is a green horse with a deep purple background. I really had a hard time to do a good photo of this painting, maybe it was the yellow-green or the purple, which the camera didn't like. But after a lot of tries I was able to get a good photo and with adjusting it a bit in Photoshop I was very pleased with the result.
But I also must add that the painting in real life looks absolutely stunning. Hope you like it too.
This painting is done in oil and I do not use any Turpentine in my oil work. I only use M. Graham Walnut oil and Walnut Alkyd Medium, a fast drying Medium. Both Mediums are super and I only can recommend  them. I do not like to have Turpentine in my house, because my studio is beside our living room and I like to keep the doors open so that I am very close to my kids.
Today was a busy day. At first I wanted to start with a new Rose painting, but then I needed to do an update of my site, then I needed to do at first a backup (wich is very important) and after all doing this I decided to go swimming with my kids, about which they both were very happy. We really had a lot of fun and when we got home it was very late.
But I was able to start in the late evening with a new Rose painting – it will be a very elegant Rose – white with a hint of yellow and orange and pink and I hope to show it very soon on my  Rosesblog.
Thanks for reading!