Blue Violet Hibiscus in watercolor and MOO businesscards
+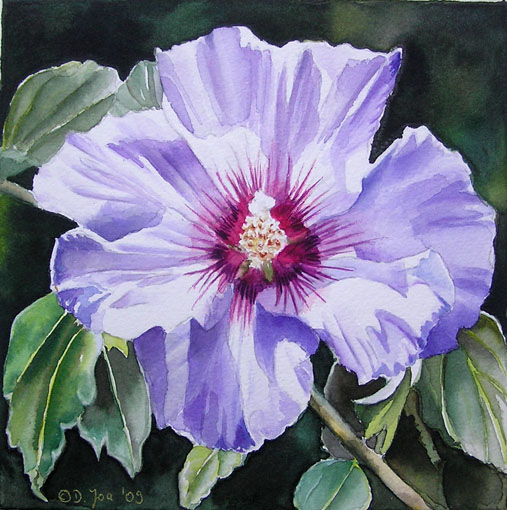 Blue Violet Hybiscus, watercolor on 140 Lb paper
size: 6×6 inch (15×15 cm)
This Blue Violet Hybiscus is painted in watercolor. It grows in one of my neighbours garden and I was allowed to do some photos there.
The Blue and Violets were created with Winsor Violet from Winsor and Newton and Phthalo Blue from Schmincke. The purple inside was created with Brillant Purple from Schmincke and I added some Permanent Rose from Winsor and Newton.
It's Moo! Time. I got my businesscards from MOO and I am so very excited. In one of my previous posts I told you about them and that I am going to order the busincess cards and also the MiniCards. It was easy to create them online and they look fantastic in real life. The quality of the cards and the printed image is great and they are in a very nice box from Moo. I only can recommend this place. Try them out, I am sure you will love them, too!
Here are some pics. Click on them to enlarge them. This are the usual size businesscards. The back of them is black with my contact details.
And this are the Mini Cards. The back here is white with my contact details.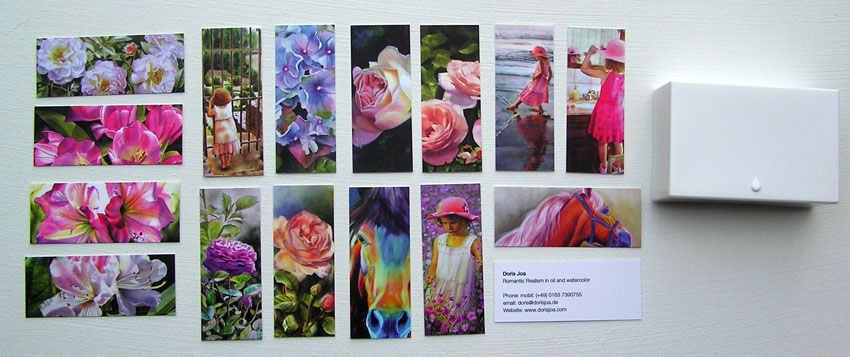 Deutsch: Dieser blaue Hibiscus wächst in Nachbars Garten und ich hatte die Erlaubnis, einige Fotos zu machen. Gemalt ist er in Aquarell.

Für das blau und violett benutzte ich Winsor Violet von Winsor and NewtonSchmincke.  Für das Purpur in der Mitte der Blume benutzte ich Brillant Purple von Schmincke und ich fügte etwas Permanent Rose von Winsor and Newton hinzu. und Phthalo Blue von
It's Moo! Time. In der Post waren meine Visitenkarten von MOO und ich mag sie absolut. In einer meiner früheren Blogeinträgen erwähnte ich sie und auch, dass ich welche bestellen wollte.  Gesagt – getan. Es war einfach sie online zu erstellen und sie sehen fantastisch aus. Die Qualität der Karten und auch der gedruckten Bilder ist großartig und sie sind in einer schönen Box von Moo. Ich kann diesen Hersteller nur empfehlen. Versuchen Sie sie, ich bin sicher, Sie werden diese Karten auch mögen.
Bitte klicken Sie auf die Bilder, um diese zu vergrößern.