Single Daffodil and my finished Rose painting in watercolor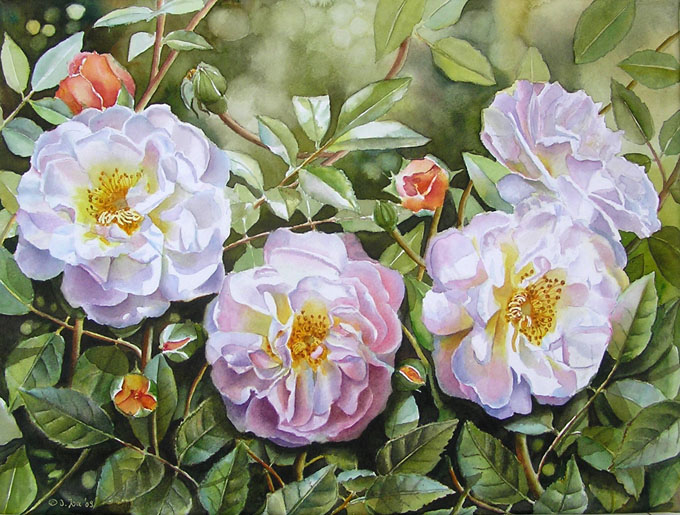 It is almost a week over since I posted an update of my roses. I photographed each day a new step and wanted to post it but then I was busy with going on with the painting and so I can already show the finished painting.
For now I will call this painting finished, but since I have spent so much time on it I also need a break and will check it in a few days again, if anything still needs some work.
It is painted on 140 Lb stretched watercolor canvas with only using transparent watercolors. Size is 12″x16″.
Beside that I did a small Daffodil painting on 140 Lb coldpressed paper. Size is 5″x7″.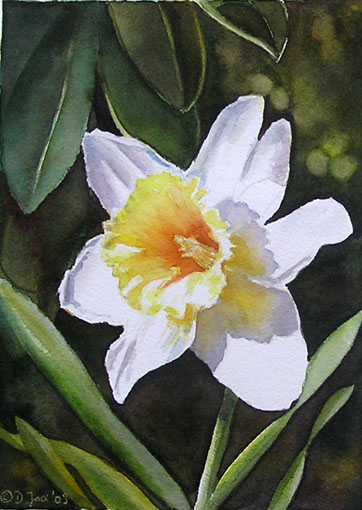 Deutsch: Es ist schon fast eine Woche her, seit ich meinen letzten Eintrag hier gemacht und ein Update von meinem Rosenbild gezeigt habe. Ich habe zwar jeden Tag jeden neuen Schritt fotografiert und wollte es auch zeigen, aber dann wollte ich unbedingt weitermalen und nun kann ich schon das fertige Rosenbild hier zeigen.
Ich denke, das Bild ist fertig, aber seit ich so viel Zeit aufgewendet habe, es zu malen, brauche ich einige Tage Pause und werde dann sehen, ob einige Bereiche noch etwas verbessert werden müssen oder nicht.

Gemalt ist es auf 300 g gespanntem Aquarellpapier (Keilrahmen) und ich habe nur transparente Aquarellfarben benutzt.
Nebenbei habe ich noch ein kleines Osterglockenbild gemalt auf 300 g kalt gepresstem Papier. Bildgröße ist 5×7 inch.