White apricot coloured Rose Clair Renaissance -Finished Rose painting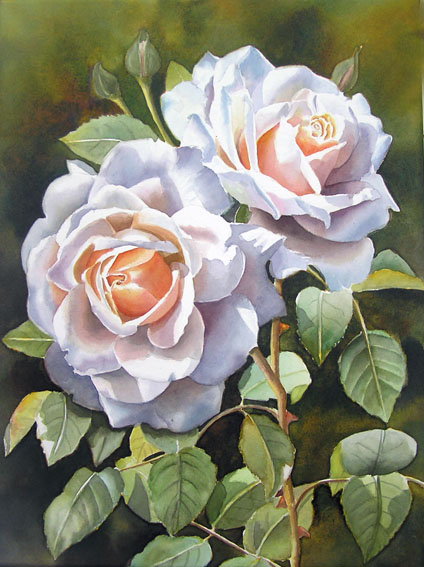 Rose Clair Renaissance IV – 12″x16″ (30×40 cm)
painted on 140 Lb hotpressed stretched watercolor canvas
In my previous post I posted some Steps of my newest Rose Painting. And I couldn't resist and wanted to finish it as I also wanted to see how it develops.
When I started the Rose painting I only wanted to add a few leaves there but then I decided to paint more and also some buds.
Here are a few step-by-step-photos. Click on the images to enlarge them.
I used the same colours as I mentioned in my previous post.
The apricot colour was achieved with at first doing a deep layer of Indian Yellow. I then added some Translucent orange and then I used a mix of Translucent Orange and Permanent Rose.
The leaves were created with Aureolin, Indian Yellow, Phthalo Blue, Alizarin Crimson, Phthalo Green and Translucent Orange. My favorite green tube is empty,  so I needed to mix the green by myself.