Roses WIP and a better photo of the painted girl in watercolor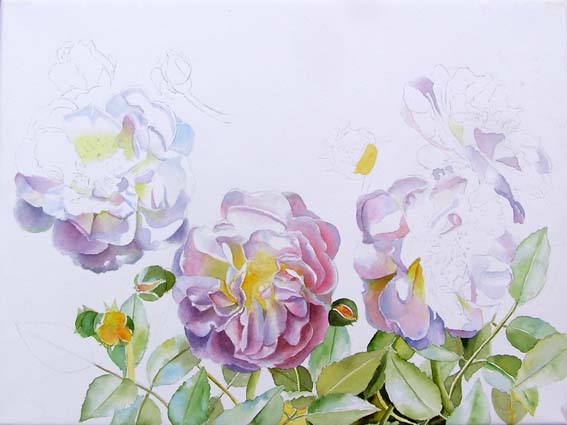 As I promised here is a new step of my current Roses painting.
I have started with some leaves to get a better feeling for the roses. The roses are looking so different on the white paper and to have them  surrounded with the leaves makes it easier to go on. And it is better to see how the colours work on them.
The colours on the leaves and stems were created with some indian yellow, aureolin, burnt sienna, sap green and helio turquoise. This is only the beginning. I may not forget to add also some of the roses colour (permanent rose and alizarin crimson mixed with phthalo blue) to the leaves.
I will show the next step very soon.
I am sorry,  the photo of the girl in watercolor which I posted yesterday was very bad, so here is also a better one.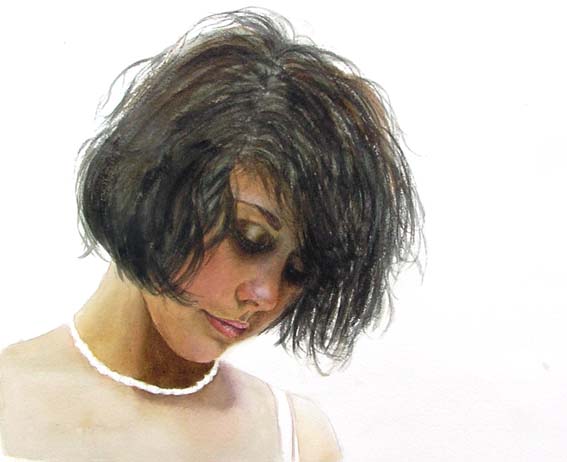 I too have now a gadget in my right sidebar where you can join this site. This means you can become a friend/follower of this site and I hope you will join.
Deutsch: Wie ich versprochen habe zeige ich hier einen weiteren Schritt meines Rosenbildes.
Begonnen habe ich nun mit einigen Blättern, um ein besseres Gefühl für die Rosen zu bekommen. Die Rosen sehen so unterschiedlich aus auf weißem Papier, aber wenn sie umgeben sind von einigen Blättern ist es einfacher fortzufahren. Man sieht dann besser, wie die Farben wirken.
Für die Farben auf den Blättern benutzte ich Indian Yellow, Aureolin, Burnt Sienna, Sap Green und Helio Turquoise. Das ist jedoch nur erst der Anfang. Ich darf nicht vergessen, auch die Farben der Rosen (Permanent Rose und Alizarin Crimson gemischt mit Phthalo Blue) zu den Blättern hinzuzufügen.
Den nächsten Schritt werde ich sehr bald zeigen.

Es tut mir leid, jedoch war das Foto von dem gemalten Mädchen in Aquarell, was ich gestern zeigte, sehr schlecht, so hier ist ein besseres.
In meiner rechten Sidebar ist nun ein "gadget", mit dem Sie meiner Seite hier beitreten können, d.h., Sie werden ein Freund/Follower und ich hoffe, Sie schließen sich an.