New figurative oil painting – young girl in a flower field – Flower Girl Painting in Oil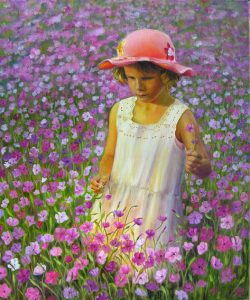 'If Only Time Stood Still'
– oil painting –
© Doris Joa
It is again a long time since I have posted here. I was working on another figurative painting in oil. The model was my daughter and we discovered this field full of flowers in Netherlands, when we did our vacations there this year. My daughter found this hat by her own at H&M and the dress was discovered at an antique market there. So it was the perfect stuff and my daughter was more than pleased to walk through the flowers and pick them.
I have tried to work again with the same palette, which I am using with watercolors and which I used already on my latest rose painting Rose Ghislaine de Féligonde – see this post on my blog
For the flowers I added Permanent Rose and cobalt violet.
For medium I am always using Walnut oil and Walnut Alkyd Medium – both are from M. Graham. I do not like to use any toxic mediums. Walnut oil and the fast drying Walnut Alkyd Medium are perfect and they are all what I need.
Size of the painting is 20″x24″.