The Beauty of a Rose in Watercolor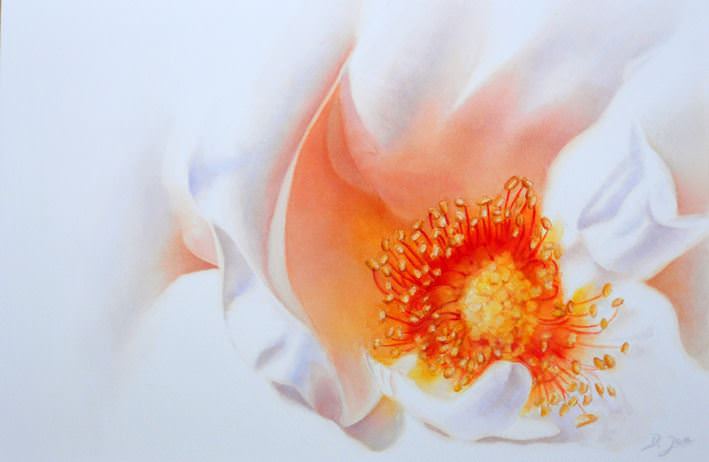 'The beautiful inner of a rose'
Watercolor paintings
size:    around 12,5″ x 18″ (32 x 46,5 cm)
© Doris Joa
I wanted to paint something different. Usually when I paint roses I then paint the complete rose and show all its petals.
But it isn't really needed to paint the whole rose with each petal to show its beauty.
For this Watercolor Painting I chose again my favourite Rose 'Clair Renaissance'. I have painted this rose so very often in complete paintings with a full rose, buds, leaves and background. For this time I thought it would be enough to paint only the inner of a rose with some suggested petals. And I think it works perfectly.
The beauty of a rose
To make the beauty of a rose really glowing I used a lot of yellow. I used the Indian Yellow as my warm yellow colour and the Aureolin as my cool yellow colour. I also used Translucent Orange to create the apricot orange glowing in the inner. But for the shadow parts of this Orange area I added a mix of Anthraquinoid Red and some Cobalt Blue to my Translucent Orange.
Since the inner of the rose is glowing so much in colour I made the shadow colours of the outer petals really cool. Cool colours against warm colours work perfect. The mix for the cool shadow colour was created with some Anthraquinoid Red and the addition of Cobalt Blue. This mix of cool shadow colour suggest some petals outside and it helps to make the beauty of a rose glowing.
In my Watercolor DVD Lessons I show you how to use warm and cool colours to create the form of a rose. In this Rose Painting we see depth.