Watercolor Painting Of White Daisies
Watercolor Painting Of White Daises
Currently I am working on a new flower watercolor painting of  white daisies.
I really enjoy working on the background and I thought I would show here my work in progress. I wanted to create a feeling of wild growing white daises within a wild field of flowers. So I have to paint a lot of stems to suggest all the other wild daisies growing.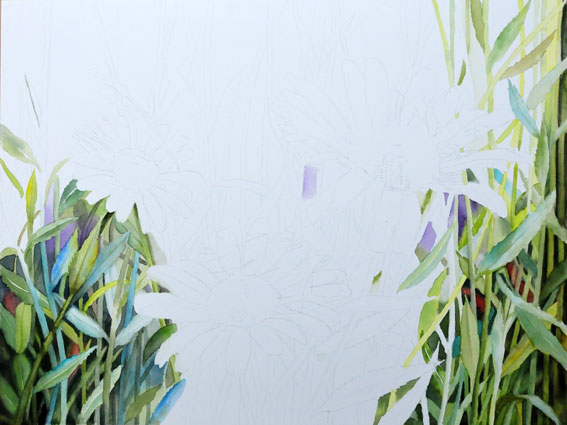 In the image above you can see how I started with all the stems and leaves. I started in the right corner but then I switched over to the left corner. But of course I had to do a detailed drawing. I drew up to 90 percent of all the stems and leaves, the rest I draw in as I make more progress. Especially suggested leaves and stems more deeper in the background will happen while I am working on specific areas.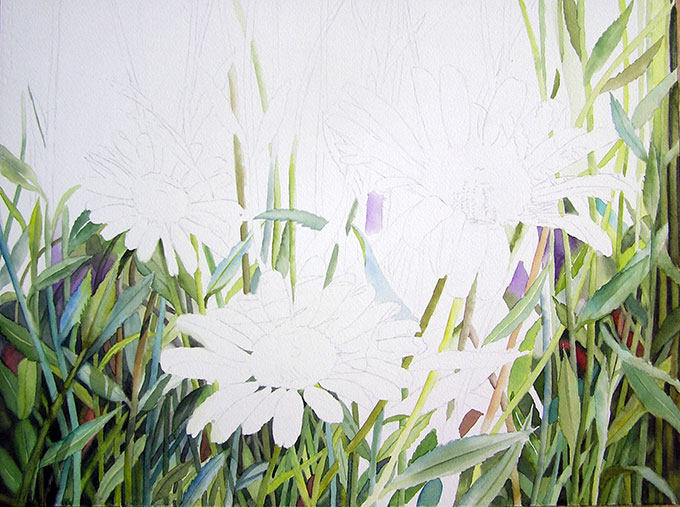 Watercolor Painting Of White Daisies © Doris Joa
In this picture you can already see a lot more progress. I am using a beautiful palette of colours here, like some yellow (Aureolin and Indian Yellow), some different greens, like Sap Green and Hookers Green and also some Turquoise and some beautiful colours. I also mix my darks in the background with Anthraquinoid Red and Hookers Green, but I also use some Burnt Sienna mixed with Ultramarine blue. If it looks too grey I then add a bit more of green to this mix. It really makes fun working on this detailed background. I am still working around the White Daisies and I know the look of this Watercolor Painting will change completely once I start to add colours to the White Daises.
Each watercolor painting is a new adventure and I like this.