Watercolor Tutorial – Atmospheric background in a Paeony Flower Painting in Watercolor – White and Pink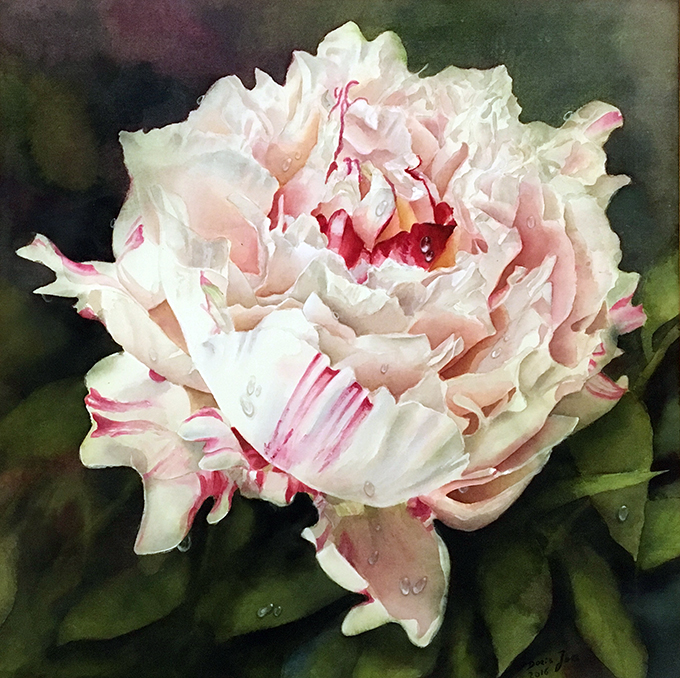 White Pink Paeony
medium: watercolor
on 140 Lb stretched watercolor paper from Arches
Size: 20″x20″ (50 cm x 50 cm)
© Doris Joa
I finally finished my Paeony Flower Painting in Watercolor. In my previous post I was unsure about how to do the background. A light background always looks very elegant especially when having a white flower. But of course a dark background adds some drama to the painting and makes the flower pop. And I prefered to add a darker background to support the Paeony Flower.
But I didn't want to paint only a dark background. I also wanted to suggest some leaves but without a lot of details.
To paint this background I made the following steps:
Step 1:
At first I painted some leaves with some yellow and green. I used Aureolin yellow and Sap Green. I wanted to keep the leaves very light in colour.
Step 2:
I then added darks around this leaves. For the darks I mixed green with red (here I recommend mixing Phthalo Green with Anthraquinoid Red) and a touch of blue. Here and there I only added some Aureolin yellow between this dark mixes to suggest more leaves. I also added some splashes of red into this background.
This all are many layers. When all was dry I had to do step 2 more often to create those darks I wanted to have.
Step 3:
It also is important to let this colours flow over the leaves which I painted in step 2. Because the leaves must be integrated in the background. I wanted to have a very soft background and no detailed leaves. It is important to have soft edges on the leaves. Hard edges would put our attention there and I didn't want to have this. I want to have the full attention on the paeony.
I think this backround fits perfect to this Paeony Flower Painting. The Paeony is very detailed and also light in colour. The background adds drame due its darkness but also creates atmosphere with having suggested leaves there.
The Paeony Flower Painting is available for sale. Just click on the link below:
White Pink Paeony, on stretched canvas, Size: 20″x20″ (50cmx50cm), Watercolor