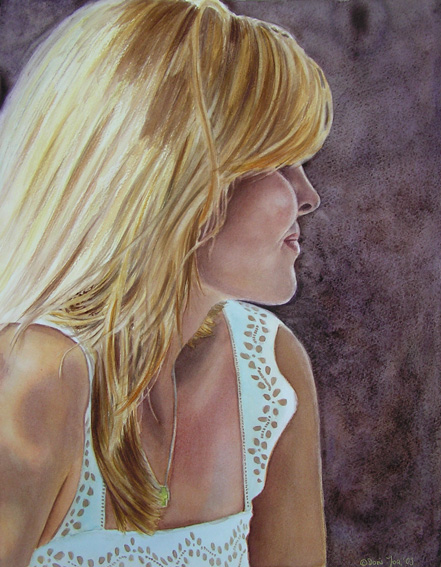 Hi, I just finished this today.
I have worked now with a completely different palette, because I worked with some cadmium colours. This is really new for me, since I always work with transparent colours.
I must say that I liked working with these colours and it seems that they are working perfect for figurative work. Of course I am still not perfect, but with each painting it will go better and better.
Working with cadmiums makes it also easier to lift some colours, especially for all the reflecting light on the skin. And also for lifting some highlights in the hair, when i still need some.
The background was done with burnt umber, ivory black and Winsor violet.
The skin tones were painted with at first a underwash of yellow ochre and then I mixed this yellow with cadmium red, added then to this mix winsor violet and/or winsor blue. For the dark skin areas I mixed some winsor violet with cadmium red and permanet sap green and yellow ochre. Here and there I also added a bit of burnt umber.
in the beginning I am always very carefully with the colours, but when a painting is going on I then try to use all the colours to get harmony.
Size is 12″x16″, painted on 140 Lb watercolor paper (on the block, unstretched).
Maybe you want to visit my Rosesblog here, there is a new small Rose painting.