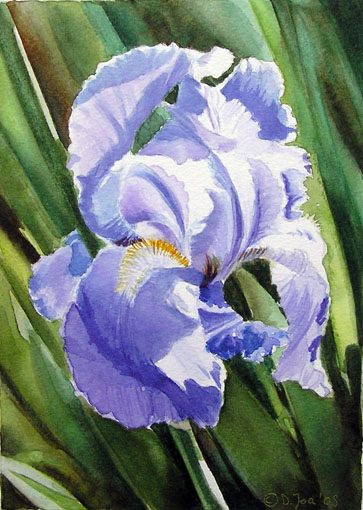 Blue Iris, watercolor, 5″x7″
Price: $50 plus $10 shipping international
And another small flower painting in watercolor. I saw this Blue Iris a week ago in a friends garden and knew I would like to paint it.
Usually I work in this way that I paint at first my subject and then the background. This time I decided to try the other way. I painted at first my background and then I concentrated on the flower. I liked a lot to paint in this way and I will try it  again on another painting.
Deutsch: Und noch ein kleines Blumengemälde in Aquarell. Ich sah diese blaue Iris letzte Woche im Garten einer guten Bekannten und wusste dass ich sie malen würde.
Gewöhnlich arbeite ich in meinen Bildern so, dass ich zuerst die Blume male und dann den Hintergrund.  Aber dieses Mal wollte ich es andersherum versuchen. Ich malte also zuerst den Hintergrund und dann konzentrierte ich mich auf die Iris. Ich muss sagen, dass ich diese Methode sehr mag und ich werde das im nächsten Bild nochmal versuchen.