Miniature Painting – Flower girl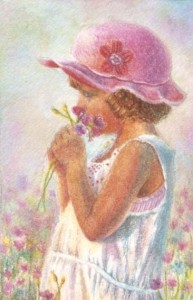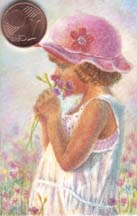 I thought I would try a real miniature painting again. This "Flower girl" – painting is painted with watercolors on hotpressed Crescent Cardboard and the size is 2″x3″.
It made fun to work so small. But for some reason I did not like the surface. I think it is still a bit too raugh for a figure painting, the board is not so smooth as I would like to have it. Also it is much easier to lift the painting than on the hotpressed Arches paper. Of course sometimes this is great, but when working on skin it can make you crazy, when the underlayers are so easily lifted.
The first image is inlarged, click on it to see the larger version. The second one is with a german penny, so you can really imagine the size.