At the beach – New watercolor figurative painting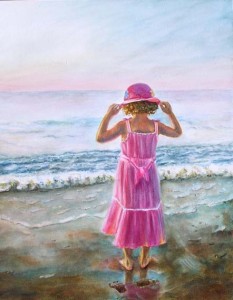 This is my newest watercolor painting of a young girl at the beach.
I have no idea which title I could use for this painting. I still remember when my kids saw the first time the ocean. It is like "Wonders of Nature" and since we do not live at the ocean I still feel the same when we visit the ocean in our vacation time. I am always impressed – deep impressed -.
I have done this painting on Textured Claybord (Aquabord) and size is 11″x14″. I loved to describe the water, the waves, the reflections and the sand. It really made fun to do this painting.
For some reasons I love this Aquabord but there are also times when I hate it and there were many times when I could have thrown this painting away. It is not easy to work in layers on this surface, it is so easy to disturb the underlayers and especially when painting skins that can look awful. I am pleased with the look now and I will not touch the painting again. Each time when I tried to add another layer on the skin I always removed the underlayers and then I had to do the whole area again.
On the other side it was so easy to work with the water and the waves and the sand, because here I LOVED it very much that I could remove the paint and to get the white back. For this the surface was wonderful.